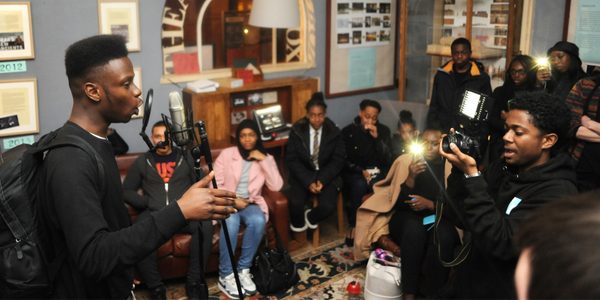 The Agency
ABOUT THE AGENCY
The Agency is a programme originally conceived by Marcus Faustini in Rio de Janeiro where it is delivered by Agência de Redes para a Juventude.
The UK pilot of The Agency ran from 2013-15 and was funded by the Calouste Gulbenkian Foundation and now runs nationwide taking place in London, Manchester, Cardiff and Belfast.
Agents take part in creative workshops, develop their research skills and make professional networks to produce an idea that they are passionate about. At the end of the 12 week process the Agents have a chance to pitch their idea to a panel and receive up to £2000 to turn it into a reality.
The Agency is a Battersea Arts Centre and Contact programme devised in partnership with People's Palace Projects. Current partners include: National Theatre Wales, Fablab Belfast, Kiln Theatre, and Blackhorse Workshop. Funded by the National Lottery Community Fund and the Mayor's London Borough of Culture. 
THE AGENCY X FELTHAM
In October 2019, Battersea Arts Centre piloted Activate Feltham, a project inspired by the Agency, with Feltham Young Offenders Institute in southwest London.
THE AGENCY REPORT 2019
In 2019 we reflected on 6 successful years of running The Agency project with young people across the UK.
THE STORY SO FAR
Learn about the The Agency's story so far, and meet some of the amazing young entrepreneurs from London, Manchester, Belfast and Cardiff who are making change in their communities.

DANIELLE HONGER (22) 
Unrestricted LDN by Danielle Honger is a brand celebrating black girl joy, while challenging the stereotype of the 'angry black girl'. Danielle creates beautiful and powerful exhibitions showcasing the power of young black women in the area. 

DULCIE USHER (22)
Horizon by Dulcie Usher is about empowering young women at risk of offending by taking them on activity-filled residential trips to broaden their perspectives. 

PRINCE AGYEI (24)
ViZion by Prince Agyei is a community album co-created with Wandsworth residents showcasing stories and talents from across the borough. 

MIKHI FEARON
Mikhi Fearon is our resident photographer and documentation lead for this project, with a commission to develop his own photography practice. 
AGENTS ARE CHANGING THE WORLD
HENRIETTA IMOREH
Henrietta started with the Agency in 2016, aged 22. She has experience of the care system and a passion for theatre. Through the Agency she developed a theatre company called Re:Define, campaigning for the rights of care leavers through creative workshops and performance. Henrietta is now a public speaker for care leavers' rights, and works at EY Foundation supporting care experienced young people into work.
DJIBRIL AYOFE & ABDI MOUSSE
Djibril and Abdi began the Agency in 2015, age 15 and 17. They loved playing football, but speaking English as a second language made it challenging to take part in football activities. They set up Universal Language to support young migrants and refugees to improve their English through football sessions that incorporate English language classes. Universal Language has partnered with Chelsea Football Club to deliver the programme, and continues to support young people today. 

SESHIE HENRY
Seshie began the Agency in 2013, aged 17. Through his love of music and local knowledge, he established I AM NEXT, a music platform to give exposure to local untapped music talent.
Seshie Henry is now a household name, running gigs internationally, and winner of Youth Music's Entrepreneur of the year.
Do you have an idea that will make positive social change, but not sure how to make it a reality? 
If you're aged 15-25, from Battersea and Clapham Junction and you have ideas that need to happen, we want to hear from you. 
We provide the professional training, support and advice needed to develop a project that will benefit your local community. This could be anything from boxing workshops to a music festival.  
You'll pitch your idea to an expert panel to win £2000 of funding to make your idea happen. 
'If you don't consider yourself to be creative, The Agency helps you to be bold, to imagine what you want. The Agency brings it out of you.' Christina, 2018 Agent 
REGISTER YOUR INTEREST TO JOIN THE AGENCY
Register your interest in joining our next cohort of the Agency below, and we will be in touch with more information when applications re-open. In the meantime, if you have any questions you can email us at homegrown@bac.org.uk.