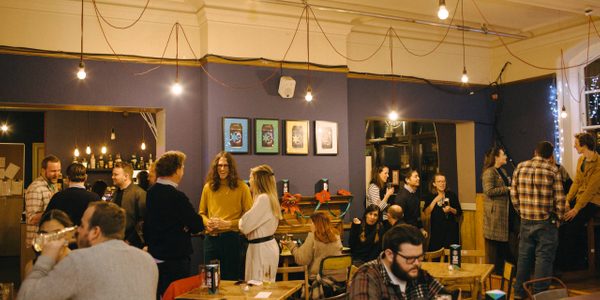 FREEDOM TAP ROOM
Come and join us for a drink in our newly launched Tap Room, in partnership with Freedom Brewery
We have a range of craft lagers, wine, sprits and soft drinks in a beautiful and creative space, just 7 minutes from Clapham Junction station.
This 2022 we're launching a series of live music events which sits alongside our creative programme, so you can meet up with friends and enjoy all that Battersea Arts Centre has to offer.
OPENING INFORMATION
DATES: Tue – Sat
TIMES: 4PM – 11PM
ACCESS: The Freedom Taproom is located on the ground floor with ramp access from the front or side entrance. There are wheelchair accessible toilets also available on the ground floor and step-free access available to other floors via a lift.
ABOUT FREEDOM
Freedom Brewery started way back in '95 as one of the original British craft lager brewers. Uninspired by the lager choices at the time they were pioneers in creating sessionable, craft lagers that deliver on quality and taste every time.
Originally based in Parson's Green, Freedom re-located to the rural village of Abbot's Bromley in Staffordshire in 2005, building a purpose build, eco-friendly brewery set in 100 acres of farmland, with the single-minded mission to brew better, better. Better for taste, better for you, and better for the environment. It is these values; bold, determined and independent, which remain at the heart of everything Freedom brewery does today, and which resonate so strongly with their loyal community of customers and consumers.