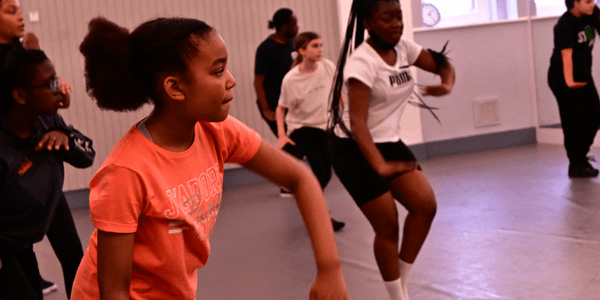 Outrageous Behaviour: The Workshops
4 – 9 Apr
Part of #Homegrown2022
WHAT MAKES YOU OUTRAGEOUS?
Join one of the UK's most innovative dance organisations Impact Dance for a week-long series of workshops and dance sessions focused on being your most outrageous self this half-term.
We invite everyone – from complete beginners to seasoned pros, to our opening DJ Jam session on Monday 4 Apr for a chance to learn some moves and meet the team.
INFORMATION
DATE: 4 – 9 Apr (Mon – Fri)
TIME: 10am – 4pm (With 1 hour lunch break)
PRICE: FREE (Sign-up essential)
AGES: 11 – 29
Sessions from Tuesday – Friday will be focused on working together to create choreography and build on your skills with the opportunity to perform your work at our public OUTRAGEOUS BEHAVIOUR SHOWCASE on Saturday 9 Apr (Tickets now on-sale).
You'll need to attend at least one workshop before being able to perform in the showcase.
To register your interest and secure a place, please fill out the form below. If you are 16 or under, a legal parent/guardian/carer must fill this form out on your behalf.
ABOUT IMPACT DANCE
Impact Dance is an art for social change organisation that specialises in Hip-Hop Theatre, Street Dance and Youth Development.
With a UK-wide reach and a global footprint, Impact Dance was founded by Hakeem Onibudo in 1995, Impact Dance empowers young people aged 11-19 through dance training, mentoring, national and international performances.
FIND OUT MORE
ACCESS
These sessions will take place in our Recreation Room.
This space is on the first floor, with step-free access available via a lift. Please let us know of any access requirements detailed in your sign-up form and one of our team will be in touch.
We have a chill-out space available in our building for anyone wanting a calm safe space to take a break from the event at any time. Find out more about our access offer here.
SIGN UP FOR THESE SESSIONS HAS NOW PASSED
If you have any queries regarding your sign-up please email ramatoulieb@bac.org.uk.