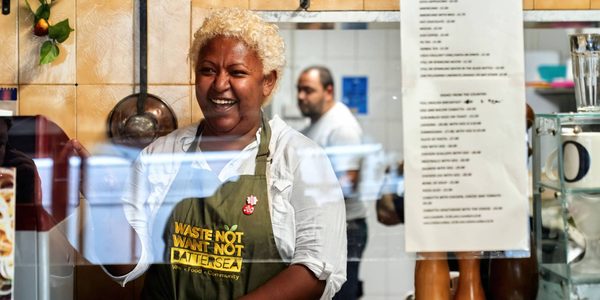 What if… all creative control on a project was put in the hands of the community, in partnership with artists?
The What If…? team are BACK as we follow Hadas Hagos, CEO of local surplus food sharing charity Waste Not Want Not Battersea, artists Hunt & Darton and emerging producer Lorra Videv on their next co-created adventure tackling food waste in the Battersea community.
What If…? is created in partnership with a local community group leaving all creative decision in the hands of the participants. Think Bake Off meets Gareth Malone's The Choir. Or not quite Bake Off and not quite The Choir… but something like that… or maybe not like that… who knows? It's up to them!
On Sat 24 Apr collect a surplus food parcel from The Venue Community Centre, or grab some ingredients from your own fridge or cupboards (we'll post these and suggested substitutes on our social media channels beforehand) ready to cook along with the show broadcast on Sun 25 Apr on Riverside Radio. 
Created in collaboration by Hadas Hagos CEO of Waste Not Want Not Battersea, Hunt & Darton and Lorra Videv. 
#WildTimes2021
Part of our Wild Times Season 
What If... A Live Radio Show!
The What If…? team will then hit the airwaves on Riverside Radio on Sun 25 Apr with a live cook-a-long with fresh ingredients from Waste Not Want Not Battersea HQ. Focused around tackling food waste and empowering local community members to feel confident in the kitchen.
Tune in on 25 Apr