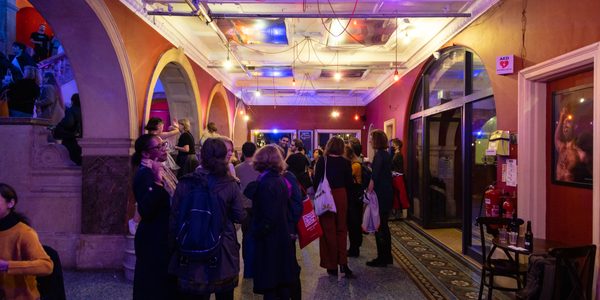 Visitor FAQs
Booking and Ticketing
I just purchased tickets for a show - how will I get my tickets?
If you booked online or provided an email address when booking with one of our box office team, you'll have received e-tickets. These can be displayed on a smart phone or a tablet in order to gain access to the performance space. The tickets are sent from boxoffice@bac.org.uk. 
Please check your junk or spam folder if you cannot find your e-tickets. 
Wherever possible, all tickets are e-mailed as we aim to operate a paperless ticketing system. We do not post tickets. 
I've lost my ticket/email confirmation – will I still be allowed in?
If you have purchased a ticket with us your booking details will still be on our system. Please log in to your account on our website here and click on 'E-tickets' to view and download a copy of your tickets.
If you are unable to do this please email boxoffice@bac.org.uk and our team can resend your tickets to you.
If these still don't arrive for whatever reason, you may ask one of our box office staff to print your ticket for you when you arrive at the venue. 
Can I return/exchange my ticket?
Tickets are non-refundable.
You may exchange tickets for another performance of the same event if you tell us at least 48 hours before the performance. This is subject to availability. 
We can return your tickets and credit your BAC customer account if a request has been made at least 48 hours before the performance start time. Credit can be used towards future bookings at BAC and is valid for 18 months from the date that it is issued. 
If the performance of an event has sold out and you no longer wish to use your tickets, we can attempt to re-sell your tickets. Please note that we cannot guarantee that we will be able to re-sell your tickets. If we are able to resell your tickets, the full cost of the tickets will be paid to you using the original payment method. 
I'm having trouble logging in online?
When purchasing tickets please go to the Account page and follow the on-screen instructions to log in or register with us.
If you are having difficulties with your email address being recognised, or have asked to reset your password and are still having problems please contact us.
The show I want to see is sold out - is there any way I can get a ticket?
We can operate a waiting list for sold-out shows. If you would like to join the waiting list you can e-mail boxoffice@bac.org.uk to be added. Please let us know your full name, how many tickets you would like, which show and performance date, and a UK phone number to reach you on should anything become available. Please note that we cannot guarantee that any tickets would become available for you. 
Access
I have an access requirement - how can I let you know about my needs?
When booking online you will be able to state what your access requirements are when you select your tickets for a show and go through the checkout process. You can also e-mail us your requirements on boxoffice@bac.org.uk or call the box office on 020 7223 2223 after you've made your booking. 
Do you allow service dogs?
We welcome service dogs everywhere and our Café Bar can provide water bowls if required. If you need to bring a service dog with you to see a performance as part of your access requirements please let our box office team know. 
General
Do you have a cloakroom?
We do not operate a cloakroom.
We would advise you to not bring large bags or suitcases when attending a performance, as we may not be able to store these securely for you.
If it is unavoidable for you to bring a large bag or suitcase with you, please speak to our Front of House team and we will try to find somewhere to store your belongings. We have limited space to store personal belongings and can't guarantee that space would be available on a given day.
Please do not leave any belongings unattended in our public areas. Personal belongings left unattended are not the responsibility of BAC staff.