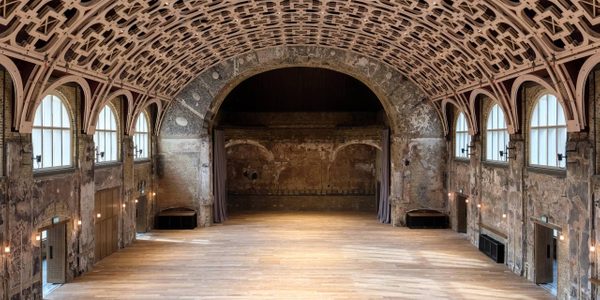 Make our building yours

WEDDINGS
Filled with history and creative flair, Battersea Arts Centre is an ideal venue for couples wanting to tie the knot somewhere a little different.
FIND OUT MORE

MEETING ROOM HIRE
Looking for flexible and affordable meeting room space for between 2 and 50 people?
FIND OUT MORE

FILMING AND PHOTOGRAPHY
From gothic corridors to opulent entrance halls, Battersea Arts Centre is a labyrinth of atmospheric spaces.
FIND OUT MORE

MUSIC
Battersea Arts Centre has hosted performances by The XX, Fleetwood Mac, and The Jam. We've featured in the BBC Proms, staged concerts for The Little Orchestra and the Philharmonia, and we supply regular rehearsal space for orchestras and large ensembles.
FIND OUT MORE

CONFERENCES
Our historic, beautifully restored Grand Hall can double as both a large auditorium and impressive banqueting hall. Or, for a more intimate conference set up, the light and airy wood-panelled Council Chamber is the perfect choice for events organisers looking for a creative venue.
FIND OUT MORE

GALA DINNERS AND AWARDS
Host sit-down dinners and large award ceremonies in resplendent style in our historic venue.
FIND OUT MORE
TESTIMONIALS
Just Seventy
"Our experience working with the team at BAC was very positive. BAC is a fantastic events space, which lends itself to a wealth of creativity in terms of design and layout and we wouldn't hesitate to work here again."
Snook Events
"A standout venue, not only for its unique and beautiful facilities but they couldn't be more accommodating, helpful and reliable giving us the ability to deliver to our high standards. A great example of quality in the events industry."
Barbara Simpson Party Design
"Battersea Arts Centre is a hidden gem in London. It proves to be a versatile, interesting, innovative & accommodating space in which to host an event and offers a fabulous canvas to create a myriad of event styles."
WE'RE GOOD TO GO
We have been recognised by the National Tourist Associations of Great Britain and Northern Ireland, that we are operating within the COVID-19 Industry Standard; following government and industry COVID-19 guidelines to ensure processes are in place to maintain cleanliness and social/physical distancing.