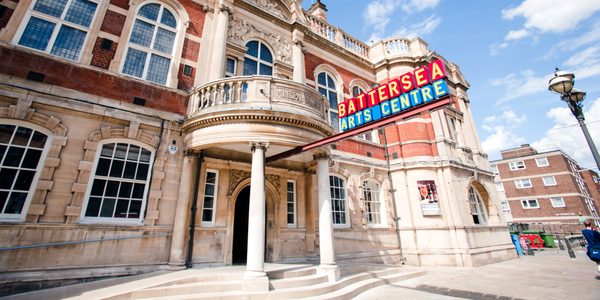 About Us
We are Battersea Arts Centre and we are a home for extraordinary things.
Based in an iconic building with a radical history, we host welcoming and inclusive spaces where communities, artists and audiences can connect and be creative. We give people the resources to develop artistic ideas that are bold and unconventional, and we aim to put accessibility at the centre of everything we do.
In collaboration with Touretteshero, Battersea Arts Centre is the world's first Relaxed Venue. We aim to embed access and inclusivity across all our activities. This includes a relaxed attitude to noise and movement during performances, a designated chill-out space for guests and ear defenders are available for those with sensory sensitivities.
Most shows at Battersea Arts Centre are now available on a Pay What You Can basis, as part of our ongoing commitment to finding new ways to break down barriers to engagement. Tickets for most shows start at £6, so you can choose a price that works for you.
OUR HISTORY
Battersea Arts Centre is the guardian of the former Battersea Town Hall, built in 1893 by Edward Mountford. Over the past 120 years this building has played host to many fascinating people and incredible stories with infamous speeches, radical politics, cutting edge performance and personal journeys.
DISCOVER THE STORY OF OUR BUILDING

RELAXED VENUE
As a Relaxed Venue, we are committed to identifying and dismantling barriers faced by disabled people, and to make the entire experience of visiting our venue more welcoming, accessible and inclusive.
FIND OUT MORE

BECOME A VOLUNTEER
Volunteering at Battersea Arts Centre is a great way to support us, and you would get the opportunity to watch our productions, learn about working in a theatre environment, and meet new people.
FIND OUT MORE