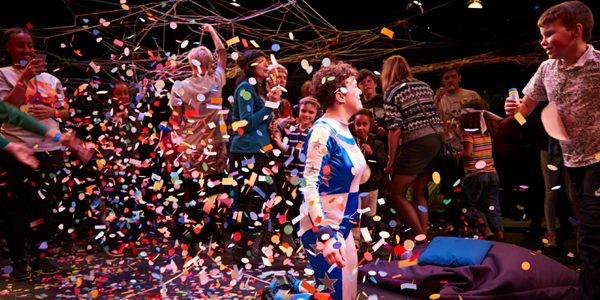 Support Us
Help us support the incredible artists and communities who work with us.
YOUR SUPPORT MAKES GREAT THINGS HAPPEN
Your support helps us continue our mission to inspire people to take creative risks to shape the future.
You will also be directly supporting our ability to continue to make our programme accessible to all with our new Pay What You Can scheme, develop our work with Young People with BAC Beatbox Academy & The Agency, and fund important projects locally spreading creativity in our community.


JOIN THE HIVE BY BECOMING A
BAC SUPPORTER
Our Hive support us to continue to take artistic risks and champion for inclusivity and accessibility in the sector. Find out all the ways you can support us here.
JOIN THE HIVE
DONATE TODAY
All donations, whether large or small, make a real difference to BAC and our work. Help us support people to take creative risks to inspire change through our live programme and all of our projects for young people.
OUR SUPPORTERS
We would like to thank everyone who supports our work at every level including, but far from limited to, the following:
Arts Council England | Battersea United Charities | Battersea Power Station Foundation | Bloomberg Philanthropies | Calouste Gulbenkian Foundation | Department for Culture, Media & Sport | Esmée Fairbairn Foundation | Ernest Hecht Charitable Foundation | Foyle Foundation | Freedom Brewery | Garfield Weston Foundation | Greater London Authority | International Music & Art Foundation | John Thaw Foundation | Kirsten Scott Memorial Trust | Kristian Gerhard Jebsen Foundation | Mactaggart Third Fund | Mayor of London | Morrisons Foundation | National Lottery Community Fund | National Lottery Heritage Fund | Paul Hamlyn Foundation | PRS Foundation | Resolution Trust | Royal Victoria Hall Foundation | The Walcot Foundation | The D'Oyly Carte Charitable Trust | The Leche Trust | Wandsworth Borough Council | Unity Theatre Trust | Wolfson Foundation | Wandsworth Grant Fund | Wimbledon Foundation | Youth Music |
Elizabeth & Reade Griffith |  Justin Shinebourne | Chris & Alison Cabot | Josh & Danna Berger | Georgia Oetker | Lulu & Ed Siskin | Scott & Laura Malkin | Clive & Tina Cowdery | Rafe Offer |
OUR HIVE MEMBERS
Christopher Hall |  Jonathan Wakeham | Simon Hooper | Rosalind Given-Wilson | Patrick Harrison | Charles Bland | Georgia Garuti | Sally O'Neill | David Jubb |  Eric Bensaude | Stuart Doole | Anthony Morris | Henrietta Marsh | Francine Stock | David Jubb |  Claire Breen | Holly Stilgoe
SIGN UP TO OUR FUNDRAISING MAILING LIST