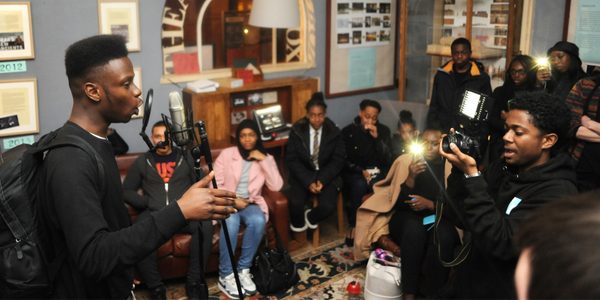 Change Makers in Residence
About the Changemakers in Residence
Change Makers in Residence supports local young people to test, scale and grow their own community initiatives in partnership with Battersea Arts Centre.
Through this scheme, BAC recognises and amplifies young people as leaders for positive change in their communities and supports each of them to accelerate and grow their community initiatives alongside a programme of professional development.
Through commissions, producing support, mentoring and specialist training opportunities these young community activists will be able to have an even greater impact on our local communities.
These Change Makers have been selected for the impact their projects are already having on their community; their potential for growth and their proven track records in leading bold, exciting and adventurous ideas.
Change Makers in Residence offers local young people the next step up in their career, having taken part in The Agency and other incubator projects. This current iteration will run until April 2023.
Change Makers in Residence is generously supported by Wandsworth Borough Council's Grant Fund.
Meet the Changemakers
Djibril joined our social entrepreneurship programme, The Agency, in 2015. He was 15 years old. He loved playing football, but speaking English as a second language made it challenging to take part in football activities.
Together with fellow Agent Abdi Mousse, they set up ISpeak Football (Universal Language) to support young migrants and refugees to improve their English through football sessions that incorporate English language classes. So far, the project has previously been delivered in London, Brighton, and with Chelsea Football Club.
The ambition for this project is to establish sessions in Wandsworth, and support the project with future funding.
Football is a skill that anyone from anywhere can take to any country. Everyone knows what it is. Football is a Universal Language.

Dulcie Davy is a visual artist based in south London, predominantly working in the mediums of painting and sculpting. She specialises in sculpted functional art inspired by the beauty and diversity of the female black community, through an afrofuturistic perspective. She also creates large-scale paintings centring on the divine feminine.
Davy Workshops provides young girls with the opportunity to be creative, try out new artistic endeavours and be a part of a relaxed, all female community. It is aimed at girls 15-18 years who attend state school in London, and is particularly open to girls who identify as part of BAME communities. These workshops will begin again in February and run for 6 weeks.
Davy Workshops – formerly Horizon Retreats (@davyworkshops) • Instagram photos and videos

Chimna is a creative director and a fashion designer with many creative disciplines under her belt. Chimna says, 'My creative name is Chimna Lionn – I am a lion because I strive to be courageous, disciplined, ferocious in all I do and strong. In all things remember… The righteous are as bold as a lion'.
FAM BAM reinvents traditional styles of family portraits, working with young single parents to spend time together, discuss, and relate over common ground. Using this information, Chimna crafts a creative and art-led photoshoot concept for the family. The photoshoot is symbolic of their story, voice, and message to the world. This is a 5-part photography series with each photoshoot being unique to the featured family. This project will culminate in a photography exhibition at Battersea Arts Centre.

Supporters