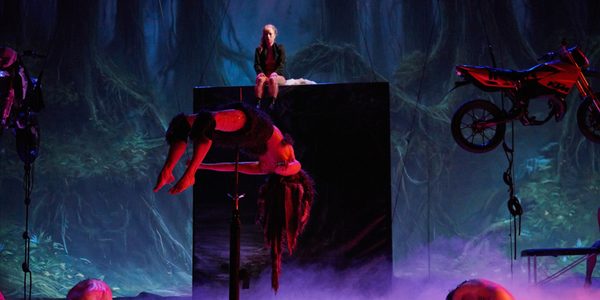 New Dimensions
"New Dimensions makes a critical intervention into current commissioning and co-production models in the UK. We want to create the conditions for artists to create radical, era-defining performance works which are deeply rooted in this present moment and respond to the most urgent questions of our time. We are delighted to be working together as partners to raise ambition and resources for UK artists and feel the time is now for a project like New Dimensions."  – New Dimensions Partners, March 2023
Five UK organisations have come together to support artists who are ready to dream big and create a new work of scale that can tour nationally and internationally. 
Battersea Arts Centre (London), Take Me Somewhere (Glasgow), Tramway (Glasgow), Transform (Leeds) and Attenborough Centre for the Creative Arts (Brighton) have created a partnership to nurture and support ambition and innovation in contemporary performance. Through commissioning, residency space, fundraising, producing support and international development opportunities, we want to invest boldly in brave artistic visions that might not be supported on this scale otherwise. 
One artist or company will be selected for a commission, supported by the partners through to the premiere of a new production at the partners' venues and festivals in autumn 2025. 
This opportunity has been developed following feedback from artists, audiences and presenters who have told us about the impact of seeing mid-large scale international works at our festivals and venues. This includes Florentina Holzinger's 'Tanz', Amanda Pina's 'Frontera | Border' and Philipe Quesne's 'Farm Fatale', and internationally supported UK works such as Cade & MacAskill's 'The Making of Pinocchio'. 
The commission aims to cultivate more of this kind of contemporary work of scale that currently feels under-supported in the UK.
Applications are now closed.
The 2025 New Dimensions Commission is Dan Daw Creative Projects with their new work Spenny. Read more about Dan's work here.