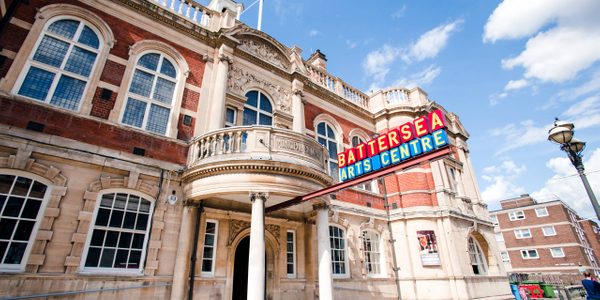 Work With Us
Battersea Arts Centre (BAC) is a home for radical artistic ideas. We support artists, young people and communities to spark positive change through their creativity in many different ways, and this social purpose is central to everything we do. Based in an iconic building at the heart of Battersea, our work revolves around an ambitious live and digital programme of performance, heritage, events, and creative and community projects. Projects developed at BAC can also be found in our communities and on tour across the UK and the world.
BAC has around 50 permanent members of staff, who are supported through a mix of line management, in-house coaching and mentoring. We offer flexible and remote working, as well as a chill out space to take time out during work hours. Other benefits include a cycle to work scheme, free tickets to our shows, and Development Days for training and professional development. We also engage up to 100 casual and freelance staff at any one time.
When we have jobs and opportunities to offer, we share them here. To apply for a role, please complete the relevant online application form below.
We particularly welcome applicants with lived experience of disability and people from groups that are currently under-represented in the arts sector. For further information or support with access requirements for your application, contact us at recruitment@bac.org.uk.
Current Jobs & Opportunities at BAC
Please check back soon as any live vacancies will be listed below!
If you are interested in a summer work experience placement at BAC, and are a student aged 14-18, studying or living in the Borough of Wandsworth:
We open applications in January & February, please email workexperience@bac.org.uk to apply.
PhD Opportunity Connected to BAC
The BAC Beatbox Academy and Goldsmiths University are looking for candidates to work on a project entitled UK Hip Hop Theatre and Participation at the BAC Beatbox Academy.
Find out more here!