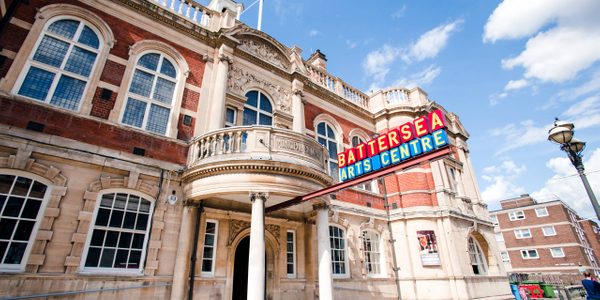 Work With Us
Battersea Arts Centre (BAC) is a home for radical artistic ideas. We support artists, young people and communities to spark positive change through their creativity in many different ways, and this social purpose is central to everything we do. Based in an iconic building at the heart of Battersea, our work revolves around an ambitious live and digital programme of performance, heritage, events, and creative and community projects. Projects developed at BAC can also be found in our communities and on tour across the UK and the world.
BAC has around 50 permanent members of staff, who are supported through a mix of line management, in-house coaching and mentoring. We offer flexible and remote working, as well as a chill out space to take time out during work hours. Other benefits include a cycle to work scheme, free tickets to our shows, and Development Days for training and professional development. We also engage up to 100 casual and freelance staff at any one time.
When we have jobs and opportunities to offer, we share them here. To apply for a role, please complete the relevant online application form below.
We particularly welcome applicants with lived experience of disability and people from groups that are currently under-represented in the arts sector. For further information or support with access requirements for your application, contact us at recruitment@bac.org.uk.
Current Jobs & Opportunities at BAC
Charity Finance Administrator
We are looking for a proactive individual with great critical thinking and problem-solving skills to join our Finance Team. This role will support the financial processes for the charity through BAC's project structure.
Reporting to the Charity Management Accountant and line managed by the Head of Finance, the Charity Finance Administrator will be a key point of contact for staff members across the organisation and offer day to day support to teams and projects.
The ideal candidate would have Experience working in a relevant business or finance environment and  undertaking a range of book-keeping duties including purchase and sales ledger input, bank reconciliations and monitoring company expenses/credit card.
Applications close 10am Wed 29 June 2022. Successful shortlisted applicants will be invited to attend interviews week commencing 11 July 2022.
Technical Production Manager
We are looking for an experienced technical theatre professional, with strong people and production management skills, for the role of Technical Production Manager.
Battersea Arts Centre's Production & Technical Team deliver a professional and helpful service to artists whilst in the rehearsal, development and performance stages of their work, at BAC and on tour. They also work on a wide range of high-end commercial events including filming, concerts, weddings, conferences, award ceremonies and fashion shows; ensuring the highest standard of technical delivery expected by our clients.
The ideal candidate will have an in-depth knowledge of lighting and sound technology, temporary electrical installations, rigging and Health & Safety legislation. Demonstrable experience in production management is essential, and they should be confident engaging and delegating to freelance and casual technicians and production staff as required. They will also be required to deputise for the Head of Production & Technical, as necessary.
Applications close 10am Monday 18 July 2022. Successful shortlisted applicants will be invited to attend an interview during the week commencing 25 July 2022.