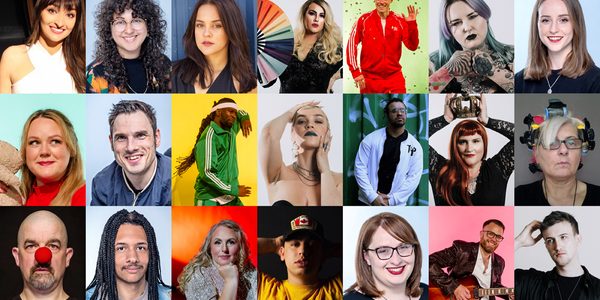 Rent Party
Rent Party is a show made with, by, and for the local community with artist Darren Pritchard (Rent Party, Mother of the House of Flava, Black Gold Arts).
Each partner re-imagined Darren's show with a local cast throughout 2021; passing the mic around talented artists from marginalised communities. The show was a 21st century take on 1920's Harlem Renaissance Rent Parties
Each Rent Party production showcased the voices, lives and skills of artists from each of these places,The casts tell their own stories of who they are, the challenges they've faced, and showcase their extraordinary talents across styles such as Hip-Hop & Trap music, fire dancing, spoken word, ventriloquism and opera.
This project was derived from an original show, Rent Party, co-written by Cheryl Martin and Darren Pritchard, produced by Jayne Compton, dramaturged by Sonia Hughes, commissioned by Homotopia, and supported through Javaad Alipoor as part of his Changemaker stint at Sheffield Crucible.
Tour
June 2021 – Lyrici Arts, Medway
July 2021 – Jumped Up Theatre, Peterborough
September 2021 – Common Wealth, East Cardiff
October 2021 – The Old Courts, Wigan
November 2021 – Battersea Arts Centre, London
The Story Behind Rent Party Wigan, by Aaliyah Ogunlana
I interviewed Darren Pritchard, the creative genius behind Rent Party, to gain deeper insight to how the idea of this theatre production was born.
Why did you want to do a story about the Harlem Rent Parties?
Initially I was commissioned by the organisation 'Homotopia' in Liverpool to do a show based on the poetry of Langston Hughes. After researching Langston Hughes, I found that he went to rent parties and wrote poetry about them. I liked the idea of Langston Hughes but he has already been deeply explored as an artist and I didn't want to do a retrospective piece on a queer American when that's not what I am. We share race and queerness but I think I've had a different experience to him as a Black British person so I decided I wanted to a show based on the Harlem Renaissance Rent Party but brought up to date with current British politics, because at that time austerity was at its height and was knocking the black community, especially black females. I wanted to share my story of what it was like growing up in Britain being working class, queer, of colour and an artist: I understood the struggle of what do you need to do to pay your rent. I think the two worlds collided because a lot of the politics are relevant, such as black artists not succeeding or being paid as much as their white counterparts, and the Oscar movements about certain black artists not getting recognised. Myself as an artist finding it hard to navigate structures that weren't meant for you. I didn't want to do a piece that was languishing: rather we overcome this and choose to do what we want to do.
How would you say you've adapted rent parties to fit a British narrative?
It's a full British cast telling their own stories. The music, clothing, stories told, the way it's presented and its references definitely makes it feel like it's from the UK. The question I wanted to answer was what does a rent party look like in Wigan 2021. The show starts from the people and the rent parties are celebrating them, so each show feels like it's from their place, whether it be Wigan, Peterborough, Cardiff or Medway.
What qualities were you looking for when you were casting your actors?
Openness, honesty and a good skill level of what they do. Although that may be subjective in general, the singers have to be able to sing, a poet had to be good at expressing their work. Also, for people to be open to other art forms and open to being directed because some people are exclusively singers but I wanted the actors to be open and share their stories and talent with me and then in turn get on stage and share them with other people. More so than interesting stories, each of the performers needed to have their point of view on the world and themselves, whether I agreed or disagreed. They needed to have a strong story they wanted to tell and Rent Party is an excellent opportunity for them to do this.
What do you think are the main themes and what message do you hope to send?
Since they're all true stories, it's different in each city. However, the overriding element in all of them is joy. Even though some people share heart wrenching stories it's a very life affirming show. People can go out having experienced an emotional rollercoaster but essentially people find joy and get a celebration of the human spirit despite moments of hardship.
How have you worked together to produce the play and how have you made it something you're really proud of?
I've been working with each of the co-producers in Wigan. We've been on a journey together picking the cast. We don't know what it's like yet because it's not been done yet. This show is all about the cast and the people: I can be in charge of the aesthetics, organise and make everything look good, but what's special about this show is each cast member and their unique stories.
How do you think the public will receive Rent Party?
We've already had generally positive feedback, critique, reviews from peers to press to strangers. I hope to carry on that trajectory of positivity because I think the casts of the final shows deserve it. They're exceptionally talented, skilled and unique performers and will be sharing a piece for themselves and deserve the adoration.