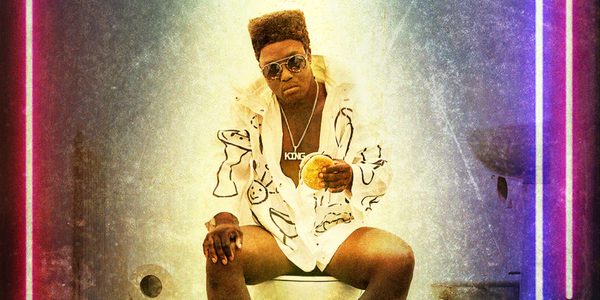 Information
Time: 7.30pm
Tickets:
Pay What You Can (Recommended Price £10)*

*all orders will be subject to a transaction fee of £1.
Running Time: 70 mins
Age Recommendation: 16+

This event takes place in person in our Council Chamber.
All performances are Pay What You Can
Elvis Died of Burgers is made and performed by the four BLINK directors who love food. If they're not eating; they're talking about it, dreaming about it, and now…dancing, rapping and rhyming about it.
Take a seat at their table as the cast spill the tea on their food stories. Watch as BLINK deep dive into the events of Elvis, The King of Rock 'n' Roll, at the end of his life with their signature sensory and often bizarre tangents…Good Food Gospel anyone? Can they figure out the thin line between the humour and tragedy of overeating?
Elvis Died of Burgers has a non-linear narrative. It uses semi-improvised dance, theatre and spoken word to create an exciting 'edge of your seat' experience for audience and cast alike.
The show explores themes of food, overeating and death. The show includes swearing and scenes of a mildly sexual nature.
ACCESS
PRE EVENT INFORMATION
This event takes place in person in our Council Chamber. This space is on the first floor, with step-free access via a lift.
If you have booked a ticket you will receive an email from us before your performance detailing important information about your visit.
PERSONAL ASSISTANT/COMPANION TICKETS
If you require the assistance of a friend or helper to attend, we can make a free ticket available for your companion. You can book access companion tickets online or contact the Box Office to book by emailing access@bac.org.uk. 
To book a free access companion online:
log in to your account here
go to 'Other preferences' and tick 'I require a personal assistant/companion'.
Choose the performance, date and seats you would like and if you add at least 2 tickets to your basket, then one of these will automatically become free.
PERFORMANCE INFORMATION
All performance will have integrated BSL. 
Audio described performance: 25 May, audio described by Vocal Eyes
Find out more about audio described performances
Touch Tour: 25 May, 6.30pm
Book your free ticket here
Content
Themes of overeating and death
All performances will be Relaxed. We invite you to make yourself comfortable and move around if you need to and if you need to leave the performance at any point you will be allowed to return to the space when you feel ready.
There are a few beanbags available for all performances, which can be used instead of your booked seat. Beanbags will be available on a first come first served basis. If you know you would prefer a beanbag seat, please email boxoffice@bac.org.uk after you have booked your ticket and we will hold the beanbag for you.
Easy Read Guide to Booking Tickets
We believe in making our shows accessible to as many people as possible.
We offer tickets on a Pay What You Can basis for the majority of performances throughout the year. Tickets usually start at £8, and we have recommended pricing to help you to choose a price that works for you.
We know that ticket price is a huge barrier for some, and the Pay What You Can model offers people who can afford to pay the recommended price or more the chance to support others who can't.

1 - 24 December
Solstice
Solstice is a brand-new immersive trail through the seasons, with magical creatures and festive fun for all the family.   

2 - 24 Dec
Santa's Grotto
Santa Claus is making a scheduled stop at Battersea Arts Centre this December.

13 December
ORGANOKE Christmas Extravaganza
Hosted at Battersea Arts Centre
Prepare yourselves for the most uproarious and unforgettable alternative Christmas concert you've ever experienced, that will have you singing en masse at the top of your lungs.