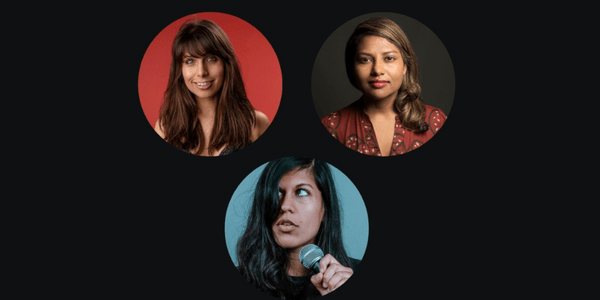 Funny Femmes Triple Bill: Work in Progress
Information
Times: 7:00pm
Tickets: Pay What You Can (suggested price £12)
Running Time: 60 mins
Age Guidance: 16+
Three badass funny femmes present you with a hilariously diverse triple bill of comedy.
Featuring Charlie George (writer for Charlie Brooker's Anti-Viral Wipe, Cunk & Other Humans and Death to 2020), Alex Bertulis-Fernandes (2Northdown Semi-Finalist and writer for The Now Show) and Sharlin Jahan (as heard on BBC Essex Radio, Second City Conservatory Programme). 
From being told women aren't funny, to it not being culturally accepted, these women defy expectations (some low, some high, some non-existent) to bring you their uniquely hilarious view on the world. Proving you shouldn't think tokenistically about brown girls…because we're all uniquely brilliant, dangerous & stupid.
Each of these women have been advised not to do comedy and now, despite their better judgement – and their safety on the streets of London – are doing it. 
Choose Dates & Book
The default price is our suggested price per ticket. Any amount paid over this will help us continue to make our events accessible to everyone.
No events could be found. Please try again
PAY WHAT YOU CAN
As part of our wider commitment to making the arts accessible to everyone, all performances at Battersea Arts Centre will now be part of our universal Pay What You Can pricing model.
Once you have chosen your seats, use the drop down to select the price you want to pay. To give you a guide, the drop down will start with the recommended price for each event.
We don't charge booking or transaction fees, and any amount paid over this will help us continue to make our events accessible to everyone, whilst supporting our activities with artists, young people and our local community.
Head to our blog to find out more about Pay What You Can.
TICKET INFO
All tickets are for seating in our Council Chamber.
We are a Covid secure venue and are following guidelines set out by the government to make your visit a safe and enjoyable one.
All visitors need to wear a mask or face covering while in the building, unless exempt. This can be removed to enjoy drinks, while seated in the auditorium.
A one way system and hand sanitising stations will be in place.
READ FULL INFO ON COVID MEASURES IN PLACE 
ACCESS
If you've booked a ticket, you'll receive an email in advance with helpful information before the performance.
This event takes place in our Council Chamber.
Step-Free Access
There is step-free access and wheelchair accessible seating in the Council Chamber. The space is on the first floor and is accessed by using a lift. There is step-free access to Scratch Bar and ground floor public spaces. There are accessible toilet facilities across the building.
Wheelchair spaces 
Due to social distancing guidelines, we have significantly reduced the number of seats in the Council Chamber. There is one wheelchair space available per performance. This can be booked online.
Access Companions
If you are disabled and require a companion to accompany you in order to attend the performance, you can book one free access companion ticket.
Further Information
Download the pre-show information
MORE COMEDY YOU MIGHT LIKE...

19 & 26 May
James Acaster: Hecklers Welcome
James Acaster has decided to give up control and let the audience do what they want while he tries to tell stories. It's an experiment!

27 May
Ed MacArthur: The Launch
Work in Progress
The award-winning Ed MacArthur brings The Launch to BAC; a madcap, multi-instrumental rollercoaster of razor-sharp wit, original songs and stunning musicianship.