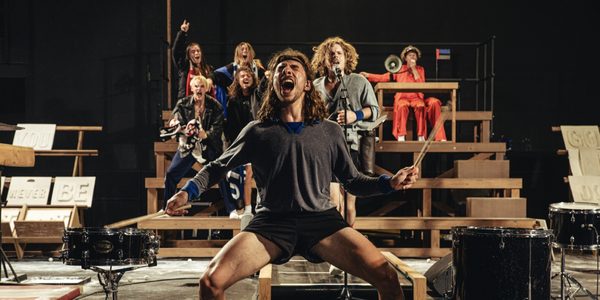 Information
Times: 8pm
Tickets:
24 Oct – Pay What You Can (Recommended Price £18)*
25 & 26 Oct – £18 standard price / £15 concessions
*all orders will be subject to a transaction fee of £2.
Running Time: 60 mins (no interval)
Age Recommendation: 14+
This event takes place in person in the Grand Hall
Co-presented by Battersea Arts Centre and Transform using public funding through the national lottery from Arts Council England. 
A group of performers enters the arena for a mesmerizing ritual about farewell, life and death, hope and resurrection. Together they go through extremes: through sung text, images and objects, oxygen and sweat, they evoke our condition humaine. Again and again, someone stands up to push their boundaries. They defy time and give expression to a deep human need: the moment when we can transcend our thinking body.
Through the metaphor of a live competition/concert, including a commentator and a cheerleader, Miet Warlop invites us to form a community and lift each other up, as in a celebration. The temporary thus becomes the universal, and the personal becomes something of the collective. That is the subtext of ONE SONG: how one song can give meaning to a whole society. Unity in diversity.
The performance has been chosen by the New York Times as one of the best performances of 2022. "Incredible virtuosity," writes the newspaper. "A wild, exhilarating study of the absurd." 
Access
PRE EVENT INFORMATION
This event takes place in person in our Grand Hall. This space is on the ground floor, with step-free access via a lift.
If you have booked a ticket you will receive an email from us before your performance detailing important information about your visit.
PERSONAL ASSISTANT/COMPANION TICKETS
If you require the assistance of a friend or helper to attend, we can make a free ticket available for your companion. You can book access companion tickets online or contact the Box Office to book by emailing access@bac.org.uk. 
To book a free access companion online:
log in to your account here
go to 'Other preferences' and tick 'I require a personal assistant/companion'.
Choose the performance, date and seats you would like and if you add at least 2 tickets to your basket, then one of these will automatically become free.
PERFORMANCE INFORMATION
Captions: All performances will be captioned.
Content
Loud music
The performance includes mentions of death, running for your life, grief and graves.
All performances will be Relaxed. We invite you to make yourself comfortable and move around if you need to and if you need to leave the performance at any point you will be allowed to return to the space when you feel ready.
Credits
With: Simon Beeckaert, Stanislas Bruynseels, Rint Dens, Judith Engelen, Elisabeth Klinck, Marius Lefever, Willem Lenaerts, Luka Mariën Milan Schudel, Melvin Slabbinck, Joppe Tanghe, Karin Tanghe, Wietse Tanghe, Flora Van Canneyt, Jarne Van Loon
Text: Miet Warlop advised by Jeroen Olyslaegers
Concept, director & set design: Miet Warlop
Music: Maarten Van Cauwenberghe together with everyone
Sound design: Bart Van Hoydonck, Raf Willems
Costume design: Carol Piron & Filles à Papa
Lighting design: Dennis Diels
Dramaturgy: Giacomo Bisordi
Assistant dramaturgy: Kaatje De Geest
Production management: Greet Prové
Technical production & stage manager: Oliver Houttekiet
Assistant production & tour manager: Elli De Meyer
Technique: Flup Beys, Dietrich Lerooij, Gilles Roosen, Bart Van Hoydonck, Raf Willems, Laurent Ysebaert, Pieter Kinoli
Realisation, props & costumes: Ateliers NTGent
Thanks to: Kris Auman, Imran Alam, Barbara Vackier, Jasper Houttekiet,
de familie Warlop, Rossana Miele, Lotte Van Craeynest, Christel Simons,
Patrick Vanderhaegen, Diana Campbell Betancourt
Production: NTGent, Miet Warlop / Irene Wool vzw
Coproduction: Festival d'Avignon, DE SINGEL (Antwerp), Tandem Scène Nationale (Arras-Douai), Théâtre Dijon Bourgogne Centre dramatique national, HAU Hebbel am Ufer Berlin, La Comédie de Valence – Centre dramatique national Drôme – Ardèche, Teatre Lliure (Barcelona)
With support of: De Vlaamse Overheid, de stad Gent, Tax Shelter van de Belgische Federale Overheid
Contact & distribution: Frans Brood Productions
Produced by NTGent & Miet Warlop, Irene Wool vzw. Co-produced by Festival d'Avignon, deSingel (Antwerp), Tandem Scène nationale Arras-Douai, Théâtre Dijon Bourgogne Centre dramatique national, HAU Hebbel am Ufer (Berlin), La Comédie de Valence, Centre dramatique national Drôme – Ardèche, Teatre Lliure Barcelona. Supported by the Flemish Government, Tax Shelter of the Belgian Federal Government, Frans Brood Productions. UK tour produced by Hannah Slimmon.
Additional funding was provided by the Diplomatic Representation of Flanders to the United Kingdom (Embassy of Belgium)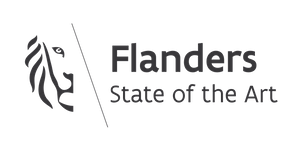 You might also like…

1 - 24 December
Solstice
Solstice is a brand-new immersive trail through the seasons, with magical creatures and festive fun for all the family.   

2 - 24 Dec
Santa's Grotto
Santa Claus is making a scheduled stop at Battersea Arts Centre this December.

13 December
ORGANOKE Christmas Extravaganza
Hosted at Battersea Arts Centre
Prepare yourselves for the most uproarious and unforgettable alternative Christmas concert you've ever experienced, that will have you singing en masse at the top of your lungs.