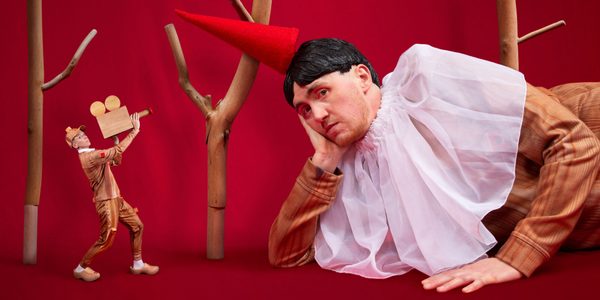 Information
Time: 1pm, 8pm 
---
Tickets:

Pay What You Can (Recommended Price £16)*
1, 4, 7, 10 November
Full Price £16 / Concession £12*
2, 3, 8, 9 November
*all orders will be subject to a transaction fee of £2.
---
Running Time: 90 mins
---
Age Guidance: 16+ (contains sexual references)
---
This event takes place in person in our Grand Hall.
Battersea Arts Centre presents
Set in a fictional film studio, you are invited to go behind the scenes of Cade & MacAskill's creative process and their relationship, and question what it takes to tell your truth.
Artists and lovers Rosana Cade and Ivor MacAskill have been creating The Making of Pinocchio since 2018, alongside and in response to Ivor's gender transition. In this 'funny, clever and thoughtful two-hander, rich in playful imagery' (The Guardian) their tender and complex autobiographical experience meets the magical story of the lying puppet who wants to be a 'real boy'.
In association with LIFT
Produced by Artsadmin
'The wondrous trans tale of Pinocchio… A funny, clever and thoughtful two-hander, rich in playful imagery and direct-to-camera asides, about identity, definition and acceptance… The satire is gentle, but the politics are clear.' ★★★★ The Guardian

'More than anything, The Making of Pinocchio testifies to an evolving, continually transforming love between partners, a love for making things and oneself.' ★★★★ The Stage

'An enormously funny, brave and bold story, telling of puppet rights, transformation, new perspectives and boundless possibility.' ★★★★ Everything Theatre
Access
PRE EVENT INFORMATION
This event takes place in person in our Grand Hall. This space is on the ground floor, with step-free access.
If you have booked a ticket you will receive an email from us before your performance detailing important information about your visit.
PERSONAL ASSISTANT/COMPANION TICKETS
If you require the assistance of a friend or helper to attend, we can make a free ticket available for your companion. You can book access companion tickets online or contact the Box Office to book by emailing access@bac.org.uk. 
To book a free access companion online:
log in to your account here
go to 'Other preferences' and tick 'I require a personal assistant/companion'.
Choose the performance, date and seats you would like and if you add at least 2 tickets to your basket, then one of these will automatically become free.
DIGITAL PERFORMANCE
As an access resource, we are providing the option to watch this performance digitally. For password information to the link below, please email boxoffice@bac.org.uk.
PERFORMANCE INFORMATION
All performances contain integrated captions with descriptions of sounds. 
There will be a wellbeing practitioner available on the following dates:
Thursday 2 Nov, 8pm
Friday 3 Nov, 8pm
Saturday 4 Nov, 1pm
Saturday 4 Nov, 8pm
Content
There is no strobes, flashing lights or haze
There is a short section with loud music
There are no moments of complete blackness
Contains nudity
The show briefly talks about transphobia, and sometimes explores the exploitation and misrepresentation of trans people's lives and bodies.
All performances will be Relaxed. We invite you to make yourself comfortable and move around if you need to and if you need to leave the performance at any point you will be allowed to return to the space when you feel ready.
Deciding whether this show is for you? You can read a pre-show description here, which contains spoilers.
Credits
Created by Rosana Cade & Ivor MacAskill
Performed by Rosana Cade, Ivor MacAskill, Jo Hellier & Tim Spooner
Set, Prop & Costume Designer: Tim Spooner
Sound Designer: Yas Clarke
Cameras: Jo Hellier
Lighting Designer: Jo Palmer
Cinematographer: Kirstin McMahon and Jo Hellier
Produced by Dr. Nora Laraki for Artsadmin
Creation produced by Mary Osborn for Artsadmin
Production Manager: Sorcha Stott-Strzala
Outside Eye: Nic Green
Movement advisor: Eleanor Perry
Captioning: Collective Text; Emilia Beatriz, Daniel Hughes with Rosana Cade, Yas Clarke, Ivor MacAskill, and Jamie Rea
Commissioned by Fierce Festival, Kampnagel, Tramway & Viernulvier with support from Attenborough Centre of the Arts, Battersea Arts Centre, LIFT and Take Me Somewhere.
Produced by Artsadmin.
Funded by Creative Scotland, Arts Council England and Rufolf Augstein Stiftung with development support from The Work Room/Dianne Torr Bursary, Scottish Sculpture Workshop, National Theatre of Scotland, Live Art Development Agency, Gessnerellee, Mousonturm, Forest Fringe, West Kowloon Cultural District & LGBT Health & Wellbeing Scotland.
You might also like…

1 - 24 December
Solstice
Solstice is a brand-new immersive trail through the seasons, with magical creatures and festive fun for all the family.   

2 - 24 Dec
Santa's Grotto
Santa Claus is making a scheduled stop at Battersea Arts Centre this December.

13 December
ORGANOKE Christmas Extravaganza
Hosted at Battersea Arts Centre
Prepare yourselves for the most uproarious and unforgettable alternative Christmas concert you've ever experienced, that will have you singing en masse at the top of your lungs.