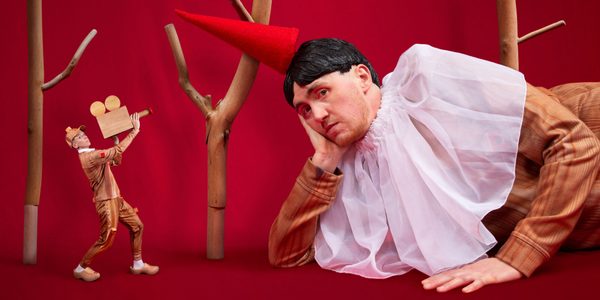 The Making of Pinocchio: Touch Tour
Information
Time: 6.15pm
Tickets: Free
Age Guidance: 16+ (contains nudity and sexual references)
This event takes place in person in our Grand Hall.
Touch tours let audience members using audio description explore the space, props and costumes. They give extra details to help engage with the performance.
Choose Dates & Book
The default price is our suggested price per ticket. Any amount paid over this will help us continue to make our events accessible to everyone.
No events could be found. Please try again

WE'RE GOOD TO GO
We have been recognised by the National Tourist Associations of Great Britain and Northern Ireland, that we are operating within the COVID-19 Industry Standard.

FACE MASKS
We encourage all audience members to wear a mask whilst sat in performance spaces and when moving around our building (unless you're exempt).
SOCIALLY DISTANCED PERFORMANCES
We have a limited number of socially distanced performances for most shows, so you can choose when you feel most comfortable attending.

BOOK WITH CONFIDENCE
Our COVID booking policy means that it's easy to exchange your tickets if you are unable to attend.