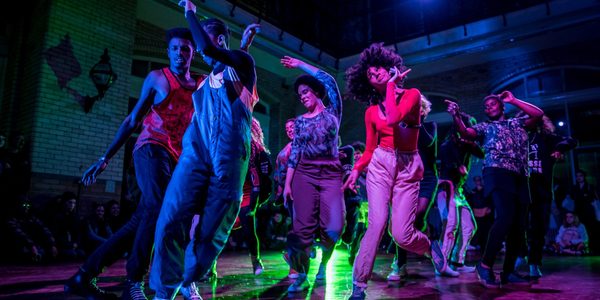 HOW WE WORK WITH ARTISTS
Battersea Arts Centre is a home for radical artistic ideas. We believe in the power of performance and collective imagination to spark positive change; not for me, not for you, but for us.
In our building and beyond, we make and present new live and digital performance, events and creative programmes for all. Our mission is to create welcoming and inclusive spaces where communities, artists and audiences can come together to connect, collaborate, and be creative; to develop artistic ideas that are bold, innovative and unexpected; and to offer a platform for ground-breaking performance to be shared and amplified, locally, nationally or internationally.
Through our Creative Development Programme, we use our resources to give people the space to play, experiment, fail and build on artistic ideas. Some of our smallest spaces have been home to the earliest sparks of pioneering projects that have gone on to tour the world.
What We're Looking For
Our Live & Digital programme focuses on theatre, performance, live art, dance and spoken word that pushes formal boundaries; that challenges audiences and offers different perspectives on the world. Our aim is to amplify and invest in innovative and unconventional artistic projects that can spark positive change: locally, nationally, or globally.
As a Relaxed Venue we're committed to radically embedding access and inclusivity in all our activities. This includes making every performance at BAC relaxed, a consistent offer of other types of access performances, and programming that reflects disability culture and disabled-led work. We're also committed to making our programme financially accessible to everyone by making all tickets we sell Pay What You Can.
Generally we don't support the development of plays and we don't read unsolicited scripts.
How We Support Artists
We offer up to 10 residencies a year for people to develop new artistic ideas and projects. Each residency will be tailored to meet the ambitions of the work in development. The support we offer includes access to space, production and technical support, financial investment, and support with fundraising.
We will approach artists directly about collaborating with us and we generally make these approaches to artists who we have an existing relationship with.
We also offer free access to space to our networks for people to meet and develop artistic ideas and projects in our building. This offer aims to support people to make work without any costs or expectations attached.
We do occasionally post commissions and open calls and on our website. You can find these opportunities here.
How We Programme
Each year we produce three seasons of work; Spring, Summer and Autumn. Our Autumn and Spring Seasons are curated with a focus on longer running shows, work we've commissioned or developed in house, and artists who we have established relationships with.
Our Summer seasons are focused on new work, one off events and shorter runs, where we can offer more opportunities to people who have not presented or developed work with us in the past.
How to Connect with Us
We research and travel as much as possible to see new work and connect with artists. Our programme is informed by our research and work we've seen live. We do not tend to invest or programme a project based on the strength of a proposal alone.  It is worth noting however that we cannot see everything that we're invited to. In some cases we will ask for video footage if we're unable to see the work live.
The best way to start a conversation about supporting a project is by inviting us to see your work live or digitally. We recommend that you consider how your work fits with our artistic programme and why you want to work with us.
You can also email the answers to this form in video or voice note to producing@bac.org.uk