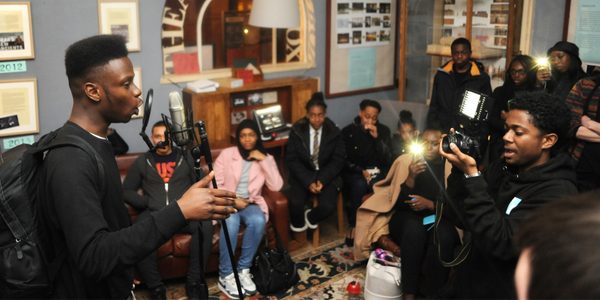 The Agency
About the Agency
The Agency is our social enterprise programme that supports young people (ages 15-25) from underserved areas to make a difference and transform their local area in a way that they think is best.
THE AGENCY AT BAC
BAC supports Young People (Agents) in Battersea and Clapham Junction to develop creative projects and businesses that will make a positive impact on their local community. We encourage Agents to take the lead on solutions that energise their communities and leave a lasting legacy, making a real difference to the lives of local young people.
Agents take part in creative workshops, develop their research skills and make professional networks to produce an idea that they are passionate about. At the end of the 12 week process the Agents have the chance to pitch to a panel of experts to receive £2000 and further support to turn their idea into a reality.
"If you don't consider yourself to be creative, The Agency helps you to be bold, to imagine what you want. The Agency brings it out of you." Christina, Alumni Agent
Find out more about The Agency nationwide here
Learn about the The Agency's story so far, and meet some of the amazing young entrepreneurs from London, Manchester, Belfast and Cardiff who are making change in their communities.
Meet the Agents
Wisdom Woman aims to inspire girls aged 13-15 from low-income households who feel discouraged by parents & society to study STEM subjects and go onto professional careers in STEM.

Project CUBE IT aims to increase confidence & resilience by getting young people into their local creative spaces to explore theatre, network and build transferable skills.
The Civics Convention educates young people from ethnic majority backgrounds on the political landscape in England, to utilise their voting rights and pass on that education to their families and local community.
THE STORY SO FAR Learn about the The Agency's story so far, and meet some of the amazing young entrepreneurs from London, Manchester, Belfast and Cardiff who are making change in their communities.

Agents Are Changing the World
Henrietta started with the Agency in 2016, aged 22. She has experience of the care system and a passion for theatre. Through The Agency she developed a theatre company called Re:Define. She now owns her own children's entertainment company, is a public speaker and campaigner for care leavers' rights and sits on the Board of Trustees for BAC.
Djibril Ayofe & Abdi Mousse
Djibril and Abdi began the Agency in 2015, aged 15 and 17. They loved playing football, but speaking English as a second language made it challenging to take part in football activities. They set up Universal Language to support young migrants and refugees to improve their English through football sessions that incorporate English language classes. Universal Language has partnered with Chelsea Football Club to deliver the programme, and continues to support young people today.
Osmond joined The Agency in 2014. At 14 years old, the strength of his idea and his sheer enthusiasm won us over. He developed a board game called Life Is What U Make It, based on his own experience growing up on Battersea's Winstanley Estate. Osmond was passionate about supporting other young people to understand the consequences of their decisions and feel inspired to make better life choices. Following further funding and trials in local schools as part of their Key Stage 3 curriculum, Osmond has been developing a new life-size version of the game for outdoor festivals, and workshops based on the game for Wandsworth schools.

HOW DID THE AGENCY START?
The Agency is a Battersea Arts Centre and Contact programme devised in partnership with People's Palace Projects. Current partners include: Energise Me, Southampton. The Agency has previously worked with young people in Cardiff, Belfast, Brent & Waltham Forrest. Funded by the National Lottery Community Fund and Kristian Gerhard Jebsen Foundation. We are grateful to Rafe Offer for his contribution to BAC's Agents in 2022.
The UK pilot of The Agency ran from 2013-15 and was funded by the Calouste Gulbenkian Foundation.
The Agency was originally conceived by theatre maker, journalist and activist Marcus Faustini in the favelas of Rio de Janeiro, delivered by Agência de Redes para a Juventude.
THE AGENCY REPORT 2019
In 2019 we reflected on 6 successful years of running The Agency project with young people across the UK.
JOIN THE AGENCY
Do you have an idea that will make positive social change, but not sure how to make it a reality?
If you're aged 15-25, from Battersea and Clapham Junction and you have ideas that need to happen, we want to hear from you.
REGISTER YOUR INTEREST TO JOIN THE AGENCY
Register your interest in joining our next cohort of The Agency below, and we will be in touch with more information when applications re-open. In the meantime, if you have any questions you can email us at nextgen@bac.org.uk
"The Agency has pushed me to step up and trust in my experience and ability. The Agency's power is in changing perspectives and empowering young people to trailblaze the solutions of their worlds." Yomi, Assistant Facilitator (BAC) and Alumni Agent (Contact)