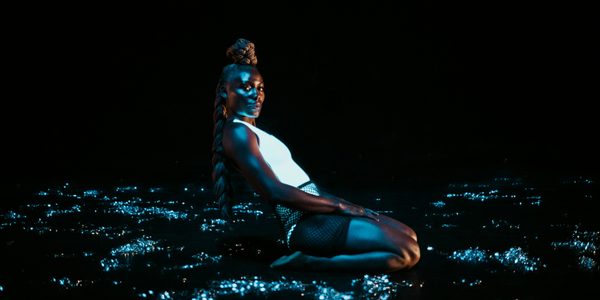 Information
Time: Available to stream any time between 30 May – 5 June.
Tickets: Pay What You Can (suggested price £4)
Running Time: 49 mins
Age Guidance: 12+
To watch the performance, you'll need a laptop or desktop computer.
Image credit: Tiu Makkonen
This is a digital version of Grin available to watch on demand.
Grin is a digital fruition of performance, sound, visuals and choreography which subverts hyper-sexualised notions of African and Caribbean dance. Grin is a masquerade of dance sculptures where body and costume are accompanied by a pulsating sound score.
Conversation around community building, refusals, friendship and support grounds the development of Grin, which both holds and is held by a cohort of friends. Grin's significant focus on black love and other experiences of interiority feel essential in considering how we can build empathy and reconstitute networks of solidarity.
This performance is Pay What You Can.
The Pay What You Can Scheme removes a financial barrier, giving everyone the chance to see our shows. This is made possible by those who are able choosing a higher price point, and for this you can be guided by the recommended price. Thank you for supporting us and the community by continuing to book with us. We look forward to seeing you soon.
Choose Dates & Book
The default price is our suggested price per ticket. Any amount paid over this will help us continue to make our events accessible to everyone.
No events could be found. Please try again
STREAMING YOUR PERFORMANCE
Once you have booked your ticket for your chosen show, you will receive a confirmation e-ticket from our box office to confirm your purchase. Ahead of the start date of your performance, you will receive a pre-show email from us containing everything you need to know about how to stream your content.
You will be directed to the event page where there will be the option to login with your account details used to buy your tickets, and from there you will be able to stream your content.
ACCESS
EVENT INFORMATION
This event takes place online.
If you've booked a ticket, you'll receive an email in advance with helpful information.
Recommended viewing note: the cinematography in Grin is best viewed in a dark room or non-bright spaces.
PERFORMANCE INFORMATION
An audio described version is available.
Content
Flashing lights
Loud or sudden music
Smoke machine is used
Moments of complete darkness
All performances will be Relaxed. We invite you to make yourself comfortable and move around if you need to. You can adjust the brightness and volume of your device at any time.
If you need to take a break, we recommend moving away from your device to do so. If you decide to turn off the performance, you will be able to stream the content another time so long as it is before 12:00am on the final show date.
EASY READ GUIDE TO WATCHING YOUR DIGITAL PERFORMANCE
CREDITS
Mele Broomes and collaborators, feat. Divine Tasinda and Kemono L.Riot
In association with Tramway
Supported by Project X and Creative Scotland
Director and Choreographer  Mele Broomes
Dancers and Collaborators  Kemono L.Riot and Divine Tasinda
Sound Composition  Patricia Panther
Director of Photography  Daniel Hughes
Lighting Designer  Michaella Fee
Costume Design and Production Stage Manager  Zephyr Liddell
Producer  Siân Baxter
Selected Track  "Five Rand Airtime nama-eveready: 4000 degrees"
Written by Ariel Zamonsky, Gontse Makhene, Joao Orecchia, Nosisi Ngakane, Siya Makuzeni & Waldo Alexander
Audio Describer  Emma-Jane McHenry
YOU MIGHT ALSO LIKE...

19 & 26 May
James Acaster: Hecklers Welcome
James Acaster has decided to give up control and let the audience do what they want while he tries to tell stories. It's an experiment!

27 May
Ed MacArthur: The Launch
Work in Progress
The award-winning Ed MacArthur brings The Launch to BAC; a madcap, multi-instrumental rollercoaster of razor-sharp wit, original songs and stunning musicianship.