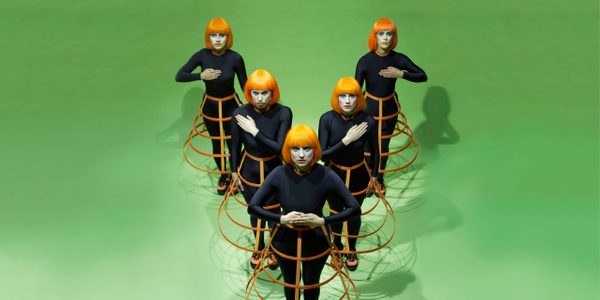 Information
Times: 8:00pm
Tickets: Pay What You Can (suggested price £20)
Running Time: 2 hours including an interval
Age Guidance: 12+
This event takes place in person in our Grand Hall.
Figs in Wigs are coming out of isolation and this time they've got their period
(dresses)
Presenting a live art, feminist 'adaptation' of Louisa May Alcott's classic novel Little Women. Wild, irreverent and cosmically comical, this production dismantles the traditional canon to make way for the doomed future of humankind.
Prepare to laugh at the traditions of theatre and poke fun at people's obsession with 'the classics' as the Figs use the story as their very own trojan horse, turning it on its head and mutating it into an unrecognisable cartoon catastrophe that talks about climate change, astrology and the infinite nature of the universe.
P.S. Beth dies.
"…a boisterous piss-take – of theatre, literary analysis and the canon."
★★★★ The Guardian
"Stuffed with glorious visual and verbal puns… moments of sublime humour"
British Theatre Guide
"…exuberant, funny and winningly tongue-in-cheek"
The State of the Arts
Little Wimmin was co-commissioned by HOME Manchester and by Cambridge Junction through Stobbs New Ideas Fund. Funded by Arts Council England. It's creation was also supported by the artsdepot Creation Space Bursary, Battersea Arts Centre, Pleasance Theatre, New Diorama, Metal Southend and Queen Mary University of London. 
Part of our OverCome Season
#OverCome2021
Choose Dates & Book
The default price is our suggested price per ticket. Any amount paid over this will help us continue to make our events accessible to everyone.
No events could be found. Please try again
PAY WHAT YOU CAN
As part of our wider commitment to making the arts accessible to everyone, all performances at Battersea Arts Centre will now be part of our universal Pay What You Can pricing model.
Once you have chosen your seats, use the drop down to select the price you want to pay. To give you a guide, the drop down will start with the recommended price for each event.
We don't charge booking or transaction fees, and any amount paid over this will help us continue to make our events accessible to everyone, whilst supporting our activities with artists, young people and our local community.
Head to our blog to find out more about Pay What You Can.
COVID-SECURE MEASURES
We are a COVID secure venue and are following guidelines set out by the government to make your visit a safe and enjoyable one.
Mask wearing is required for all adult audience members whilst sat in performance spaces and when moving around our building (unless exempt).
Find out more about our covid-secure measures
We are offering a limited amount of socially distanced performances for most events.
Fewer tickets will be sold for these performances providing more space for audiences to be social distanced.
Socially distanced performances will be highlighted next to the dates when booking.
ACCESS
This event takes place in person in our Grand Hall. 
If you've booked a ticket, you'll receive an email in advance with helpful information before the performance.
Content
This show includes f

lashing lights, strobe, haze, distressing soundscape, screaming, and an OTT death scene

 

There will be moments of almost complete darkness.
There will be loud music and sounds.
All performances will be Relaxed. We invite you to make yourself comfortable and move around if you need to and if you need to leave the performance at any point you will be allowed to return to the space when you feel ready.
Further Information
YOU MIGHT ALSO LIKE...

29 June - 2 July
The Making of Pinocchio
A true tale of love and transition told through the story of Pinocchio. Join two artists on a fantastical journey through a real-life story as they make a new version of Pinocchio.   

29 June
Christopher Bliss: Work in Progress
Christopher Bliss is a village-renowned novelist and son of two. WARNING: This show contains scenes that some viewers may find extremely nice.

30 June
Sami Abu Wardeh: Bedu
Work in Progress
Sami Abu Wardeh uses his body and voice to present an hour of character comedy that may feel dangerous but is probably as safe as milk or houses.