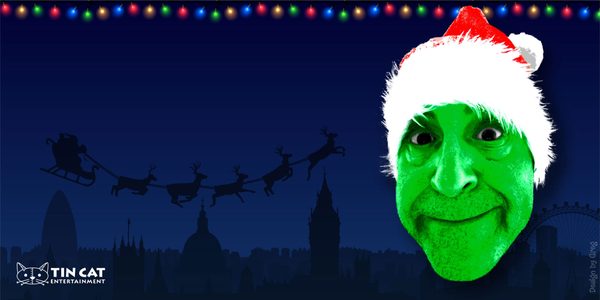 Mark Thomas: An Extra Plate
Information
Time: 3:00pm & 8:00pm
Tickets: Pay What You Can (suggested price £20)
Running Time: 75 mins
Age Guidance: 12+
This event takes place in person in our Members Bar.
Mark Thomas is just about the last person you'd associate with "ho ho ho let's throw a log on the fire and gather round for Christmas" 
But… MARK LOVES CHRISTMAS! Christmas singles, films, carols, decorations, presents, food and, most of all, Christmas stories! 
From this most unChristmassy storyteller comes Christmas tales from his life, time and family. The one where his dad was Father Christmas for the school fete, the Christmas spent alone, the dead neighbours, the broken hearts and the unexpected guests. Mark loves it all, but most of all he loves the stories of giving and sharing, celebrating and finding hope in the darkest time of year. 
It's time to tell of the ghost of radical Christmas past and present. It's part comedy, part pathos and an all-out party with more cheer than a Laplander's eggnog hot tub! 
Part of our OverCome Season
#OverCome2021
Choose Dates & Book
The default price is our suggested price per ticket. Any amount paid over this will help us continue to make our events accessible to everyone.
No events could be found. Please try again
PAY WHAT YOU CAN
As part of our wider commitment to making the arts accessible to everyone, all performances at Battersea Arts Centre will now be part of our universal Pay What You Can pricing model.
Once you have chosen your seats, use the drop down to select the price you want to pay. To give you a guide, the drop down will start with the recommended price for each event.
We don't charge booking or transaction fees, and any amount paid over this will help us continue to make our events accessible to everyone, whilst supporting our activities with artists, young people and our local community.
Head to our blog to find out more about Pay What You Can.
COVID-SECURE MEASURES
We are a COVID secure venue and are following guidelines set out by the government to make your visit a safe and enjoyable one.
Mask wearing is required for all adult audience members whilst sat in performance spaces and when moving around our building (unless exempt).
Find out more about our covid-secure measures
We are offering a limited amount of socially distanced performances for most events.
Fewer tickets will be sold for these performances providing more space for audiences to be social distanced.
Socially distanced performances will be highlighted next to the dates when booking.
ACCESS
This event takes place in person in our Members Bar.
You will receive an email from us before your performance detailing important information about your visit. If you would like to read about our current Covid safety measures in place, you can find out more about what to expect here.
Content
This performance will contain some strong language.
All performances will be Relaxed.
Further Information
YOU MIGHT ALSO LIKE...

19 & 26 May
James Acaster: Hecklers Welcome
James Acaster has decided to give up control and let the audience do what they want while he tries to tell stories. It's an experiment!

27 May
Ed MacArthur: The Launch
Work in Progress
The award-winning Ed MacArthur brings The Launch to BAC; a madcap, multi-instrumental rollercoaster of razor-sharp wit, original songs and stunning musicianship.