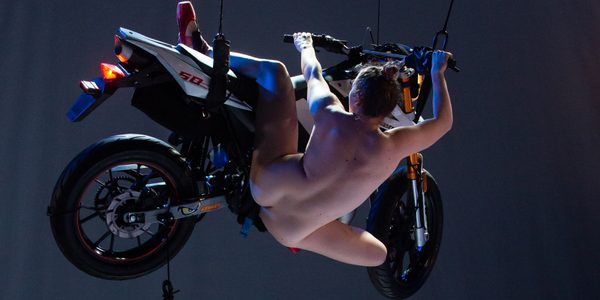 Information
Time: 8pm
Tickets:
Full Price £21 / Student £18 / Disabled Person £10.50
Pay What You Can performance on 1 November (Recommended Price £20)
Running Time: 135 mins (no interval)
Age Guidance: 18+
This event takes place in person in our Grand Hall.
Access to Priority Booking for Good Friends & Hive Members from Wed 20 July, midday. General Booking opens Fri 22 July, midday.
Become a Good Friend and access Priority Booking HERE.
We have one Pay What You Can performance and two performances with standard pricing.
Florentina Holzinger's performances enjoy cult status.
Defying genre and smashing gender clichés, 'TANZ' dissects traditional dance and theatre narratives. The performers undergo a rigorous "training in action" ballet, learning how to use their skills in a genre of spectacle to penetrate space and gain knowledge about flying.
'TANZ' takes early 19th century romantic ballet as a starting point. Using the frame of a ballet class guided by Beatrice Schoenherr, the first ballerina who danced the Sacre de Printemps naked. This spectacular performance incorporates dizzying acrobatics, muscular women's bodies and martial art fight scenes.
"Slapstick, splatter, surreal scenes, pauses, polyphonic a-capella, high-wire acrobatics on motocross bikes suspended from the fly tower, breathtaking, yet well-articulated stunts result in outstanding theatre" taz.de

"Holzinger´s Masterpiece" Der Standard
Choose Dates & Book
The default price is our suggested price per ticket. Any amount paid over this will help us continue to make our events accessible to everyone.
No events could be found. Please try again
ACCESS
PRE EVENT INFORMATION
This event takes place in person in our Grand Hall. This space has step-free access.
If you have booked a ticket you will receive an email from us before your performance detailing important information about your visit.
PERSONAL ASSISTANT/COMPANION TICKETS
If you require the assistance of a friend or helper to attend, we can make a free ticket available for your companion. You can book access companion tickets online or contact the Box Office to book by emailing access@bac.org.uk. 
To book a free access companion online:
log in to your account here
go to 'Other preferences' and tick 'I require a personal assistant/companion'.
Choose the performance, date and seats you would like and if you add at least 2 tickets to your basket, then one of these will automatically become free.
PERFORMANCE INFORMATION
Content
Explicit nudity

Self-harming body acts

Blood and n

eedles

Strobe and loud music
All performances will be Relaxed. We invite you to make yourself comfortable and move around if you need to and if you need to leave the performance at any point you will be allowed to return to the space when you feel ready.
CREDITS
Concept/Performance/Choreography: Florentina Holzinger 
Performance by and with Renée Copraij, Beatrice Cordua, Evelyn Frantti, Lucifire, Lydia Darling, Annina Machaz,  Netti Nüganen, Suzn Pasyon, Laura Stokes, Veronica Thompson, Josefin Arnell, Florentina Holzinger 
Video design/Live camera: Josefin Arnell/ Jessyca Hauser 
Sound design/Sound Technician: Stefan Schneider 
Light design/Technical director: Anne Meeussen
Technical assistant: Koen Vanneste, Dörte Wilroth 
Stage design: Nikola Knezevic
Stage assistant: Camilla Smolders 
Dramaturgy: Renée Copraij, Sara Ostertag
Outside eye: Michele Rizzo, Fernando Belfiore
Music coach: Almut Lustig
Coaching: Ghani Minne, Dave Tusk                                                                     
Stunt support: Haeger Stunt & Wireworks 
Stunt instructors: Stunt Cloud GmbH (Leo Plank, Phong Giang, Sandra Barger)   
Theory and research: Anna Leon 
Costume advisor/tailor: Mael Blau 
Prosthetic and Mask: Students of Wigs, Make-up and Special Make-up Effects for Stage and Screen – Theaterakademie August Everding Munich, Marianne Meinl 
Management: Something Great (Berlin – DE) & DANSCO (Amsterdam – NL)
International distribution: Something Great (Berlin – DE)
Production: Spirit 
Executive Production: Laura Andreß 
Financial administration: Julia Haas/SMART (Vienna – AT)
Co-produced by: Tanzquartier Wien (Vienna – AT), Spring Festival (Utrecht – NL), Theatre Rotterdam (Rotterdam – NL), Mousonturm (Frankfurt – DE), Arsenic (Lausanne – CH), Münchner Kammerspiele (Munich – DE), Take Me Somewhere Festival (Glasgow – UK), Beursschouwburg (Brussels, BE) deSingel (Antwerp – BE), Sophiensaele (Berlin – DE), Frascati Productions (Amsterdam -NL), Theater im Pumpenhaus (Muenster – DE), asphalt Festival (Düsseldorf – DE).
Supported by: O Espaço do Tempo (PT), Fondation LUMA (FR) and De Châtel Award (NL) 
Thanks to: CAMPO Gent, ImPulsTanz – Vienna International Dance Festival, Eva Beresin, Stefanie Leitner, Tanz-Archiv MUK Wien, Stimuleringsfonds Creatieve Industrie, Mochi Catering Vienna, Andres Stirn. 
Funded by: Cultural Department of the City of Vienna, Arts and Culture Division of the Federal Chancellery of Austria, Performing Arts Fund NL and Norma fonds NL
With the support of: the Republic Austria Federal Ministry for Arts, Culture, the Civil Service and Sport, Section IV – Arts and Culture 
PAY WHAT YOU CAN
We believe in making our shows accessible to as many people as possible.
We offer tickets on a Pay What You Can basis for the majority of performances throughout the year. Tickets usually start at £6, and we have recommended pricing to help you to choose a price that works for you.
We know that ticket price is a huge barrier for some, and the Pay What You Can model offers people who can afford to pay the recommended price or more the chance to support others who can't.
YOU MIGHT ALSO LIKE...

26 - 29 October
Contemporary Dance 2.0
A rhythmic, fiercely energetic and exhilarating performance from celebrated choreographer Hofesh Shechter and his award winning company Shechter II. 

19 - 22 October
The Shadow Whose Prey the Hunter Becomes
A sly theatrical revelation inspired by mistakes, mis-readings, mis-leadings and misunderstanding, SHADOW reminds us that none of us are self-sufficient and all of us are responsible. 

1 - 3 November
Tanz
Florentina Holzinger's performances enjoy cult status. Defying genre and smashing gender clichés, TANZ dissects traditional dance and theatre narratives.