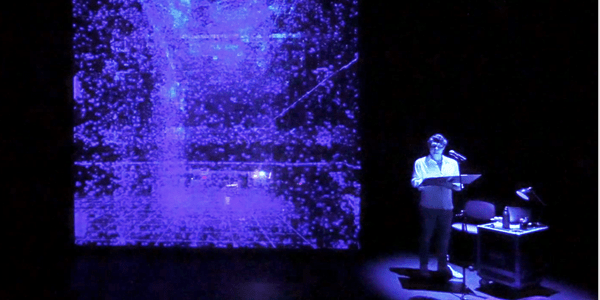 Things Hidden Since the Foundation of the World
The Javaad Alipoor Company
Information
Time: 7:30pm
Tickets: Pay What You Can (Recommended Price £16)
Running Time: 90 mins
Age Guidance: 14+
This event takes place in person in our Council Chamber.
Access to Priority Booking for Good Friends & Hive Members from Wed 20 July, midday. General Booking opens Fri 22 July, midday.
Become a Good Friend and access Priority Booking HERE.
All performances of 'Things Hidden Since the Foundation of the World' are Pay What You Can.
An investigation into the nature of investigation, with the unsolved murder of a pop icon at its centre…
It's the 1970s and Fereydoun Farrokhzad's star is blazing bright – he's a sex symbol and chart-topping pop singer – imagine an Iranian Tom Jones. A decade on and he's living in political exile in Germany, though still performing to sold-out audiences in Europe. 
On 7 August 1992, he's found brutally murdered. The neighbours said his dogs had been barking for two nights. 
'Things Hidden' is a thrilling ride down the rabbit hole of Wikipedia and murder mystery podcasts, sorting through the tangle of information available online in a post-colonial world to reveal the limits of the search engines in solving a decades old cold case. 
On previous work:

"Riveting – breaks all the rules of theatre" The Times

"It's dazzling, discombobulating and alarming" ★★★★ The Guardian

"A spectacular and yet intimate picture of the clash of wealth, faith and technology." ★★★★ The Sunday Times
Tickets from £6. If anyone feels they need to pay under £6 please contact Box Office, on boxoffice@bac.org.uk or call 0207 223 2223
The Pay What You Can Scheme removes a financial barrier, giving everyone the chance to see our shows. This is made possible by those who are able choosing a higher price point, and for this you can be guided by the recommended price. Thank you for supporting us and the community by continuing to book with us. We look forward to seeing you soon.
Choose Dates & Book
The default price is our suggested price per ticket. Any amount paid over this will help us continue to make our events accessible to everyone.
No events could be found. Please try again
ACCESS
PRE EVENT INFORMATION
This event takes place in person in our Council Chamber. This space is on the first floor, with step-free access via a lift.
If you have booked a ticket you will receive an email from us before your performance detailing important information about your visit.
PERSONAL ASSISTANT/COMPANION TICKETS
If you require the assistance of a friend or helper to attend, we can make a free ticket available for your companion. You can book access companion tickets online or contact the Box Office to book by emailing access@bac.org.uk. 
To book a free access companion online:
log in to your account here
go to 'Other preferences' and tick 'I require a personal assistant/companion'.
Choose the performance, date and seats you would like and if you add at least 2 tickets to your basket, then one of these will automatically become free.
PERFORMANCE INFORMATION
Captioned performance: 18 November, 7.30pm
BSL Interpreted Performance: 25 November, 7.30pm. Interpreted by Sumayya El-Tayeb
Content
There may be loud music or sudden loud sounds
There may be flashing moving lights
There might be moments of complete darkness
All performances will be Relaxed. We invite you to make yourself comfortable and move around if you need to and if you need to leave the performance at any point you will be allowed to return to the space when you feel ready.
CREDITS
Written by Javaad Alipoor with Chris Thorpe
Director: Javaad Alipoor
Performer: Javaad Alipoor
Musician and performer: Raam Emami
Composer and performer: Me-Lee Hay
Dramaturg: Chris Thorpe
Co-created by Natalie Diddams
Designer: Ben Brockman
Video Designer: Limbic Cinema
Lighting Designer: Jess Bernberg
Co-commissioned by HOME and The National Theatre of Parramatta
PAY WHAT YOU CAN
We believe in making our shows accessible to as many people as possible.
We offer tickets on a Pay What You Can basis for the majority of performances throughout the year. Tickets usually start at £6, and we have recommended pricing to help you to choose a price that works for you.
We know that ticket price is a huge barrier for some, and the Pay What You Can model offers people who can afford to pay the recommended price or more the chance to support others who can't.
YOU MIGHT ALSO LIKE...

20 October - 5 November
The Trauma Show
The Trauma Show explores the impacts of adverse childhoods, making a show and dance out of it, mourning our little selves, 'therapise' culture and how TikTok can heal us all.

19 - 22 October
The Shadow Whose Prey the Hunter Becomes
A sly theatrical revelation inspired by mistakes, mis-readings, mis-leadings and misunderstanding, SHADOW reminds us that none of us are self-sufficient and all of us are responsible. 

26 - 29 October
Contemporary Dance 2.0
A rhythmic, fiercely energetic and exhilarating performance from celebrated choreographer Hofesh Shechter and his award winning company Shechter II.