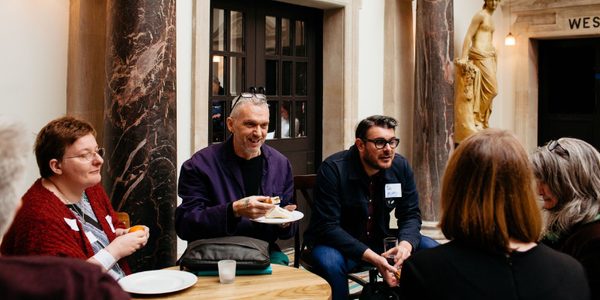 CONFERENCE AND MEETING SPACE IN SOUTH LONDON
Battersea Arts Centre is perfect for events organisers looking for a creative venue.
Our historic, beautifully restored Grand Hall can double as both a large auditorium and impressive banqueting hall.
For a more intimate conference set up, the light and airy wood-panelled Council Chamber is the perfect choice.
CONFERENCES
Our team understand the need for large-scale events to be fluid and efficient. We think creatively about conferencing formats and enjoy the challenge presented by new set-ups and styles. In recent months we have hosted the Theatres Trust Conference, the Labour Party Election Launch, the Association of British Theatre Technicians' AGM, and the Haworth Tompkins Architects Declare November event.
We offer a selection of AV equipment in house but we also work with a production partner, Broadsword Event House, who are experts in their field.
We have WiFi throughout the building and can supply event furniture in a range of conferencing set-ups.
Catering is either looked after in-house by our professional catering staff led by Head Chef, Nigel James, or by one of our chosen catering partners. The team is always happy to work with businesses to find a menu that suits their brand and budget.
'I'd like to thank you and the production team at Battersea Arts Centre for providing an amazing space and faultless operation for yesterday's Theatres Trust Conference.  It makes my job a lot easier when I have such an accommodating team that are not fazed by any last minute changes or problems.' – Sarah Walsh, Theatres Trust, 2019
MEETINGS
Battersea Arts Centre caters for both the little and the large when it comes to events and our range of rooms across the building suit smaller scale meetings as well as larger conferences. We delight in offering a fun alternative to your classical boardroom set-up across our unique venue. We can either offer the grandeur of the Council Chamber, the quirkiness of Elm House or the understated ease of the Waiting Room or Members' Library.
Our in-house technical team can take care of your technical needs, with our Head Chef, Nigel James, overseeing your catering. We work to a variety of specifications and budgets.
We welcome enquiries from charities and local community organisations. Please get in touch for more information.
CONFERENCE AND MEETING CAPACITIES
Grand Hall: 600 theatre, 300 cabaret, 800 standing
Council Chamber: 160 theatre, 132 cabaret, 200 standing
For all other spaces, please enquire for availability.
CONTACT US
Nothing beats seeing a venue first-hand, so please get in touch with us today to arrange a viewing with a member of our events team.