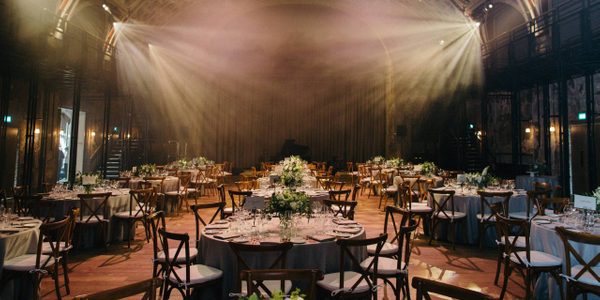 The Grand Hall
Boasting its own private entrance, guests arrive into the stunning Octagonal Hall, with mosaic floor and stained glass-domed ceiling making for an impressive start to any event. Guests journey through the evocative corridors running alongside the Grand Hall before stepping out into the hall itself.

The Grand Hall, beautifully restored following a devastating fire in 2015, is an event space unlike any other. With potential to hold from 100 to 800 guests in a variety of formats, the Grand Hall is as functional as it is unique.
The stunning lattice ceiling, hiding an advanced technical infrastructure, and remaining original features from its rich 125 year history make it ideal for hosting events that push boundaries.
Large windows surrounding the hall allow natural daylight to flood in or clients can opt to use our blackout blinds and create their own stunning lighting effect within the space.
Alongside the Grand Hall and Octagonal Hall, event guests can also make use of the dedicated bar space.
Every event in the Grand Hall is looked after by our team of event professionals who are always on hand to provide a personable and professional service.
Grand Hall Capacities: Up to 350 sit-down dinner, 550 seated theatre-style, 800 standing
Grand Hall Dimensions: Length 35m, Width 16m, Width between galleries 12m
Suitable for: Weddings, conferences, award ceremonies, dinners, lectures, concerts, fashion shows, filming and more
Rates: From £9,000 + VAT including Grand Hall, Octagonal Hall and Bar
Additional Fees:
All food and drink
Extended hire periods (late licenses are available) and load-in and load-out days negotiable
Bespoke technical packages are available at additional cost
Staffing costs are quoted bespoke for your event