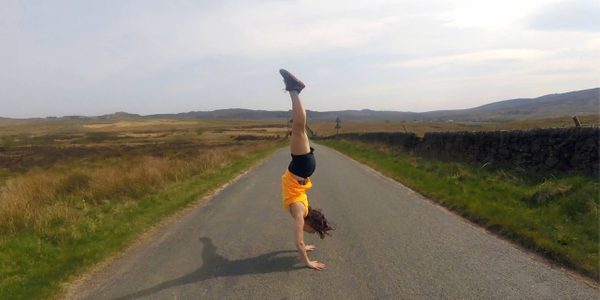 Information
Time: 7:00pm
Tickets: Pay What You Can (suggested price £16)
Running Time: 1 hr 30 mins
Age Guidance: 14+
This event takes place in person in our Members Bar.
Jenni is not an athlete. Jenni has not done enough training. Jenni wants to perform a feat of endurance, live and in real time. She really wants to be able to run up hills and mountains.
Exploring colonial legacies through the prism of the Bolivian/Aymaran warrior Bartolina Sisa and modern day women who are out-performing men at ultra marathon running, Jenni wants to know how we carry on when things get really hard?
Endurance looks at how we endure, why we endure, and how women can make their innate propensity for endurance work in their favour to tip the balance of power.
"What's fascinating about all these shows…was their boldness…the vision, the ability and the daring to make the work"
Lyn Gardner, The Stage on Thank Heaven for Little Grrrls
A HOME Theatre Commission. Supported using public funding by the National Lottery through Arts Council England. Originally commissioned by Upstart Theatre as part of Dare Festival 2019.
Part of our OverCome Season
#OverCome2021
Choose Dates & Book
The default price is our suggested price per ticket. Any amount paid over this will help us continue to make our events accessible to everyone.
No events could be found. Please try again
CREDITS
Written and devised by Jennifer Jackson with Simon Carroll Jones
Performers Jennifer Jackson, Simon Carroll Jones & Eryck Brahmania
Lighting and Video Design Sarah Readman
Sound Co-Designed Alexandra Faye Braithwaite and Annie- May Fletcher
Costume Design Cécile Trémolières and Tracey Dunk
Dramaturgy Emily Ling Williams
Movement Direction Simon Carroll Jones
Outside Eye Poppy Clifford, Anna West, Emily Ling Williams
Lighting and Video Design Development Joshua Pharo
Creative Technology Consultancy idontloveyouanymore
Stage Management Sam Campbell
Producing Rosie Scudder
Previous collaborators: Anna Himali Howard and Sarah Calver
PAY WHAT YOU CAN
As part of our wider commitment to making the arts accessible to everyone, all performances at Battersea Arts Centre will now be part of our universal Pay What You Can pricing model.
Use the slider or list of prices to decide how much you want to pay for your ticket. To give you a guide, we've included a recommended price for each event. Any amount paid over this will help us continue to make our events accessible to everyone, whilst supporting our activities with artists, young people and our local community.
Head to our blog to find out more about Pay What You Can.
COVID-SECURE MEASURES
We are a COVID secure venue and are following guidelines set out by the government to make your visit a safe and enjoyable one.
Mask wearing is required for all adult audience members whilst sat in performance spaces and when moving around our building (unless exempt).
Find out more about our covid-secure measures
We are offering a limited amount of socially distanced performances for most events.
Fewer tickets will be sold for these performances providing more space for audiences to be social distanced.
Socially distanced performances will be highlighted next to the dates when booking.
ACCESS
This event takes place in person in our Members Bar.
If you've booked a ticket, you'll receive an email in advance with helpful information before the performance.
Every performance will be creatively captioned.
Content
This show contains potentially distressing scenes and discussion of sexual violence.
There will be moments of darkness, loud music and sounds.
All performances will be Relaxed. We invite you to make yourself comfortable and move around if you need to and if you need to leave the performance at any point you will be allowed to return to the space when you feel ready.
Further Information
YOU MIGHT ALSO LIKE...

29 June - 2 July
The Making of Pinocchio
A true tale of love and transition told through the story of Pinocchio. Join two artists on a fantastical journey through a real-life story as they make a new version of Pinocchio.   

29 June
Christopher Bliss: Work in Progress
Christopher Bliss is a village-renowned novelist and son of two. WARNING: This show contains scenes that some viewers may find extremely nice.

30 June
Sami Abu Wardeh: Bedu
Work in Progress
Sami Abu Wardeh uses his body and voice to present an hour of character comedy that may feel dangerous but is probably as safe as milk or houses.