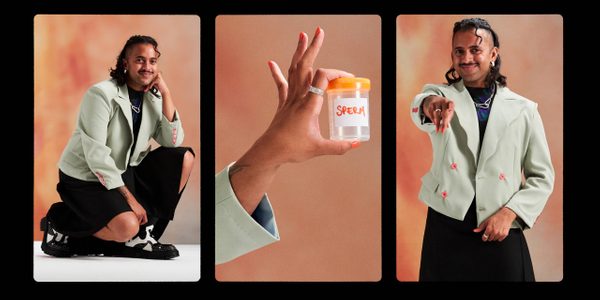 Information
Times: See listings below
Tickets:
Wed-Fri – Pay What You Can (Recommended Price £12)*
Sat – 8 Hour Tickets – Pay What You Can (Recommended Price £26)*
Sat – 2 Hour Tickets – Pay What You Can (Recommended Price £10)*
*all orders will be subject to a transaction fee of £2.
Running Times:
Wed-Fri – 3 Hours
Sat – 9 Hours (Including 1 hour break)
Age Recommendation: 18+
Please note: performances on 4 and 11 Nov will be filmed
This event takes place in person in the Council Chamber
This groundbreaking performance offers a rare opportunity to contribute to and witness queer family-making. Embark on a journey with performance artist Krishna Istha as they search for the 'perfect' sperm donor.  The show will explore human connection and parenthood, and challenge expectations, redefining what it means to create a family as a transgender person.  
In the World Premiere of this one-of-a-kind durational experience, First Trimester invites you to witness intimate live interviews between Krishna and 100s of participants over two weeks, in a quest to find them and their partner a sperm donor, or at least discover the qualities that bring them closer to their perfect match.
Krishna asks questions that range from funny to serious, from matter-of-fact information to philosophical perspectives in order to make the ultimate connection.
Audience members are invited to watch as the interviews unfold, but are also welcome to sign-up as a participant and prospective donor, regardless of their ability to donate sperm. We welcome participants aged 18 to 60+ from all backgrounds. Each interview is pivotal in helping Krishna inch closer to finding the right donor. 
This is a durational performance. For weekday performances you can choose to stay for the full 3 hours. For Saturday performances you can either buy a ticket for the full 8 hours (plus a 1 hour break) or for 2 hour slots. You are welcome to come and go as you please with the slot you have selected.
INTERESTED IN BEING A PARTICIPANT? REGISTER HERE
PLEASE NOTE: by clicking on the above link and registering interest, you will leaving BAC's website, and all correspondence will be directly with Krishna's team.
Access
PRE EVENT INFORMATION
This event takes place in person in our Council Chamber. This space is on the first floor, with step-free access via a lift.
If you have booked a ticket you will receive an email from us before your performance detailing important information about your visit.
Please note, due to the format of the show, there may be a small wait of no more than 10 minutes to enter the space if you arrive after the start time.
PERSONAL ASSISTANT/COMPANION TICKETS
If you require the assistance of a friend or helper to attend, we can make a free ticket available for your companion. You can book access companion tickets online or contact the Box Office to book by emailing access@bac.org.uk. 
To book a free access companion online:
log in to your account here
go to 'Other preferences' and tick 'I require a personal assistant/companion'.
Choose the performance, date and seats you would like and if you add at least 2 tickets to your basket, then one of these will automatically become free.
PERFORMANCE INFORMATION
BSL interpreted performance: 2 November, interpreted by Ali Gordon & 11 November, interpreted by Max Marchewicz and Ryan McLean.
Touch tour: 11 November, 11:30am and 4:30pm – Book your free ticket here
Audio described performance: 11 November, audio description guides will be made available for audiences. Interpreted by Adedamola Bajomo and Laura Edmonds.
An audio description of the stage and Krishna will be available via a QR code for every performance.
Audio Described Introduction by Vocal Eyes
Audio Described Introduction by Adedamola Bajomo
Audio Described Introduction – Text Version 
Content
There will likely be moments of loud music and sounds
All performances will be Relaxed. We invite you to make yourself comfortable and move around if you need to and if you need to leave the performance at any point you will be allowed to return to the space when you feel ready.
Participant & audience care has been central to the development of the show and there will be a wellbeing practitioner on site at every performance.
PRE-SHOW INFORMATION (Wednesday – Friday PERFORMANCES)
PRE-SHOW INFORMATION (Saturday Performances)
Credits
Krishna Istha is a London-based performance artist, comedian, theatre maker, and screenwriter. They create socially conscious, form-pushing works about taboo or underrepresented experiences of gender, race and sexual politics.
Currently, they are writing on Netflix's 'Sex Education' (Season 4) and are a recipient of the Netflix Documentary Talent Fund. More recently, they were a Barbican Centre Open Lab artist (2021-22) and an Arts Admin Bursary Artist (2020-21). 
They were one of two shortlisted writers for the Sky Arts & Royal Society of Literature Writers Awards under screenwriting (2022) and placed Runner-Up on Screenshot (2021), a competition for comedy writer-performers hosted by Sister Pictures and South of the River Pictures, and judged by Olivia Coleman, Phoebe Waller-Bridge, Lolly Adefope & Rosie Jones.
Commissioned by Roundhouse, Battersea Arts Centre and Marlborough Productions.
Supported by Arts Council England.
We believe in making our shows accessible to as many people as possible.
We offer tickets on a Pay What You Can basis for the majority of performances throughout the year. Tickets usually start at £8, and we have recommended pricing to help you to choose a price that works for you.
We know that ticket price is a huge barrier for some, and the Pay What You Can model offers people who can afford to pay the recommended price or more the chance to support others who can't.
You might also like…

1 - 24 December
Solstice
Solstice is a brand-new immersive trail through the seasons, with magical creatures and festive fun for all the family.   

2 - 24 Dec
Santa's Grotto
Santa Claus is making a scheduled stop at Battersea Arts Centre this December.

13 December
ORGANOKE Christmas Extravaganza
Hosted at Battersea Arts Centre
Prepare yourselves for the most uproarious and unforgettable alternative Christmas concert you've ever experienced, that will have you singing en masse at the top of your lungs.