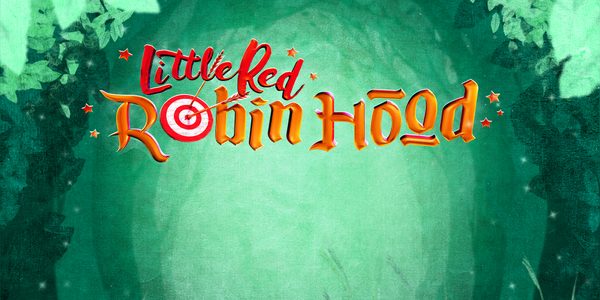 Little Red Robin Hood
Sleeping Trees and Splendid Productions
Information
Time: 10:15am, 11am, 1pm, 2pm, 6pm, 7pm.
Tickets:
OFF PEAK TIMES (6 – 16 Dec, 1 – 8 Jan)
Adults £19.50 / Under 16s £16 / Disabled People £9.75
PEAK TIMES (17 – 31 Dec)
All tickets £19.50
At least one Pay What You Can performance per week (Recommended Price £17)
Running Time: TBC
Age Guidance: 3+
This event takes place in person in our Council Chamber.
We've got ticket prices to suit everybody. Some performances are Pay What You Can, others have standard pricing, but please contact our Box Office if you have any questions!
We can't wait to welcome you to BAC for this year's spectacular panto mash up 'Little Red Robin Hood'.
DISASTER! The wicked Sheriff of Nottingham has captured the famous outlaw Robin Hood! Who is going to stand up for the people now? Surely not a tiny girl in a red riding hood?
Sometimes the true hero is the person you least expect, as Red Riding Hood heads into the forest to defeat the Sheriff, find her Grandma and discover her destiny.
The team behind smash hit panto-mashups 'Goldilocks & the Three Musketeers' and 'Sleeping Beauty and the Beast' return to the BAC with a hilarious new Christmas adventure, 'Little Red Robin Hood'.
Featuring a brand new superstar cast and a host of exciting surprises, we aim to put an arrow in your bow, a song in your heart and a smile on your face – it's an unmissable Christmas treat for all the family!
The Pay What You Can Scheme removes a financial barrier, giving everyone the chance to see our shows. This is made possible by those who are able choosing a higher price point, and for this you can be guided by the recommended price. Thank you for supporting us and the community by continuing to book with us. We look forward to seeing you soon.
Choose Dates & Book
The default price is our suggested price per ticket. Any amount paid over this will help us continue to make our events accessible to everyone.
No events could be found. Please try again
ACCESS
PRE EVENT INFORMATION
This event takes place in person in our Council Chamber. This space is on the first floor, with step-free access via a lift.
If you have booked a ticket you will receive an email from us before your performance detailing important information about your visit.
PERSONAL ASSISTANT/COMPANION TICKETS
If you require the assistance of a friend or helper to attend, we can make a free ticket available for your companion. You can book access companion tickets online or contact the Box Office to book by emailing access@bac.org.uk. 
To book a free access companion online:
log in to your account here
go to 'Other preferences' and tick 'I require a personal assistant/companion'.
Choose the performance, date and seats you would like and if you add at least 2 tickets to your basket, then one of these will automatically become free.
PERFORMANCE INFORMATION
Familiarization tours: 9 Dec, midday and 18 Dec, 10am
Book you free ticket here
Sensory Adapted Performances: 9 Dec, 1pm and 15 Dec, 7pm
Find out more about sensory adapted performances
Touch Tour: 17 Dec, 1pm
Book your free ticket here
Audio Described Performance: 17 Dec, 2pm
Find out more about audio described performances
Content
All performances will be Relaxed. We invite you to make yourself comfortable and move around if you need to and if you need to leave the performance at any point you will be allowed to return to the space when you feel ready.
PAY WHAT YOU CAN
We believe in making our shows accessible to as many people as possible.
We offer tickets on a Pay What You Can basis for the majority of performances throughout the year. Tickets usually start at £6, and we have recommended pricing to help you to choose a price that works for you.
We know that ticket price is a huge barrier for some, and the Pay What You Can model offers people who can afford to pay the recommended price or more the chance to support others who can't.