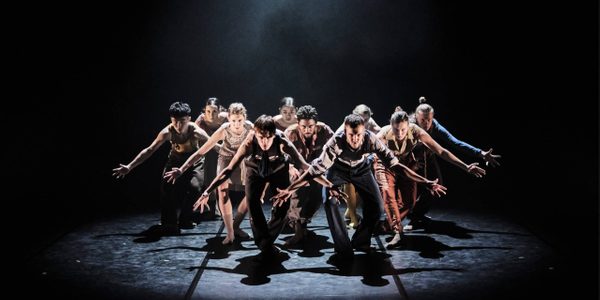 POLITICAL MOTHER UNPLUGGED
Information
Times: 8:30pm
Tickets: Pay What You Can (suggested price £25, £30 for Thu 4 Nov)
Running Time: 68 mins (no interval)
Age Guidance: 13+
This event takes place in person in our Grand Hall. 
Hofesh Shechter Company presents
POLITICAL MOTHER UNPLUGGED
Performed by Shechter II
In 2020, Hofesh Shechter celebrated the 10th anniversary of his iconic masterpiece Political Mother with a powerful new version for Shechter II.
POLITICAL MOTHER UNPLUGGED will invoke the ferocity and spirit of the original in a new era and for a new generation of dancers, selected from the most inspiring young artists across the globe.
Drawing you into a world of raw emotion and intense sensations, POLITICAL MOTHER UNPLUGGED is driven by Shechter's contagious tribal movement, a new landscape of digital, animated projections and the dancers' extraordinary skill and honesty.
Danced to a bespoke, new recording of Shechter's music this will be a dance experience like no other.
Choreography & Music by Hofesh Shechter
Performed by Shechter II
'… as ambitious and as heads-down, hair-prickingly exhilarating as modern dance gets…' ★★★★★ The Telegraph
'Hofesh Shechter's latest work detonates on stage in a scattershot of shattering political imagery…Shechter has created a work of galvanising challenging power…'
★★★★ The Guardian
POLITICAL MOTHER UNPLUGGED is produced by Hofesh Shechter Company and co-commissioned by Théâtre de la Ville Paris, HOME Manchester, düsseldorf festival! with production support from Fondazione I Teatri Reggio Emilia and a production residency at DanceEast, Ipswich.
Hofesh Shechter Company gratefully receives support towards the delivery of Shechter II 2020, which includes project funding from The Foyle Foundation, The Harold Hyam Wingate Foundation and the International Music and Art Foundation, and core funding from Esmée Fairbairn Foundation and the Garfield Weston Foundation.
Hofesh Shechter Company is supported using public funding through Arts Council England and benefits from the support of BNP Paribas Foundation for the development of its projects.
Part of our OverCome Season
#OverCome2021
Choose Dates & Book
The default price is our suggested price per ticket. Any amount paid over this will help us continue to make our events accessible to everyone.
No events could be found. Please try again
CAST & CREATIVE TEAM
Choreography and Music Hofesh Shechter
Lighting Design Lee Curran
Costume Design Merle Hensel
Video Projection Designer Shay Hamias
Musical Collaborators Nell Catchpole, Yaron Engler
Percussion Arrangements by Hofesh Shechter, Yaron Engler
AFTER HOURS
DJ GOLDEN RATIФ (till late).
Join us into the night on Thurs 4 Nov, as we bring you a new dimension to this performance of POLITICAL MOTHER UNPLUGGED. We will be hosting a night of music from DJ GOLDEN RATIФ with a set that will journey through different music genres and cultures, reminding us of the joy and pleasure found in the moving body. It's been a while since we've shared a space, danced, and been together so come #movewithus during this one-off, exclusive evening.
Recommended price for this event is £30.
PAY WHAT YOU CAN
As part of our wider commitment to making the arts accessible to everyone, all performances at Battersea Arts Centre will now be part of our universal Pay What You Can pricing model.
Once you have chosen your seats, use the drop down to select the price you want to pay. To give you a guide, the drop down will start with the recommended price for each event.
We don't charge booking or transaction fees, and any amount paid over this will help us continue to make our events accessible to everyone, whilst supporting our activities with artists, young people and our local community.
Head to our blog to find out more about Pay What You Can.
COVID-SECURE MEASURES
We are a COVID secure venue and are following guidelines set out by the government to make your visit a safe and enjoyable one.
Mask wearing is required for all adult audience members whilst sat in performance spaces and when moving around our building (unless exempt).
Find out more about our covid-secure measures
We are offering a limited amount of socially distanced performances for most events.
Fewer tickets will be sold for these performances providing more space for audiences to be social distanced.
Socially distanced performances will be highlighted next to the dates when booking.
ACCESS
This event takes place in person in our Grand Hall. 
If you've booked a ticket, you'll receive an email in advance with helpful information before the performance.
Content
This performance will contain loud music.
This performance will contain flashing lights, projections and strobe.
All performances will be Relaxed. We invite you to make yourself comfortable and move around if you need to and if you need to leave the performance at any point you will be allowed to return to the space when you feel ready.
Further Information
YOU MIGHT ALSO LIKE...

6 - 14 October
Jezebel
Jezebel is a dance performance inspired by the 'Video Vixen': female models who appeared in hip hop video clips in the late '90s and early 2000s. 

26 - 29 October
Contemporary Dance 2.0
A rhythmic, fiercely energetic and exhilarating performance from celebrated choreographer Hofesh Shechter and his award winning company Shechter II. 

1 - 3 November
Tanz
Florentina Holzinger's performances enjoy cult status. Defying genre and smashing gender clichés, TANZ dissects traditional dance and theatre narratives.