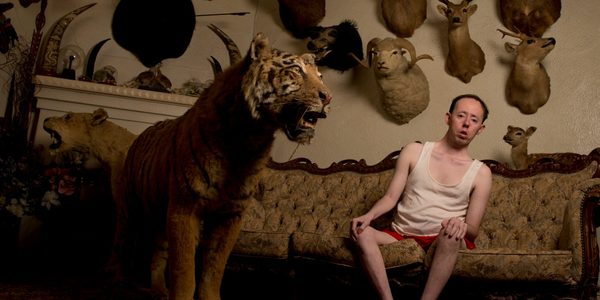 The Shadow Whose Prey the Hunter Becomes
Information
Time: 2pm & 8pm
Tickets: Pay What You Can (Recommended Price £18)
Running Time: 60 mins
Age Guidance: 12+
This event takes place in our Grand Hall.
Back to Back Theatre
UK Premiere
Weaving a narrative through human rights, sexual politics, and the projected dominance of artificial intelligence, Shadow Whose Prey the Hunter Becomes is a sly theatrical revelation inspired by mistakes, mis-readings, mis-leadings and misunderstanding, Shadow reminds us that none of us are self-sufficient and all of us are responsible.
The Shadow Whose Prey the Hunter Becomes is a story about a public meeting, the type of meeting you would hope to happen in a certain kind of democracy. How do we come together to make decisions that are in the best interest of a civic society? This is a play about individual and collective responsibility. 
"an extraordinary play" New York Times

"an indisputable must-see"  ★★★★★  New York Stage Review

"Into its one remarkable hour Shadow manages to pack more insight, wisdom, emotional resonance, and steadily accumulating power than many stage productions achieve in three times that duration"  The Boston Globe Review
This performance is Pay What You Can.
Tickets from £6. If anyone feels they need to pay under £6 please contact Box Office, on boxoffice@bac.org.uk or call 0207 223 2223
The Pay What You Can Scheme removes a financial barrier, giving everyone the chance to see our shows. This is made possible by those who are able choosing a higher price point, and for this you can be guided by the recommended price. Thank you for supporting us and the community by continuing to book with us. We look forward to seeing you soon.
Choose Dates & Book
The default price is our suggested price per ticket. Any amount paid over this will help us continue to make our events accessible to everyone.
No events could be found. Please try again
ACCESS
PRE EVENT INFORMATION
This event takes place in person in our Grand Hall. This space is on the ground floor, with step-free access.
If you have booked a ticket you will receive an email from us before your performance detailing important information about your visit.
PERSONAL ASSISTANT/COMPANION TICKETS
If you require the assistance of a friend or helper to attend, we can make a free ticket available for your companion. You can book access companion tickets online or contact the Box Office to book by emailing access@bac.org.uk. 
To book a free access companion online:
log in to your account here
go to 'Other preferences' and tick 'I require a personal assistant/companion'.
Choose the performance, date and seats you would like and if you add at least 2 tickets to your basket, then one of these will automatically become free.
PERFORMANCE INFORMATION
Audio described performance: TBC
Content
Contains adult themes and coarse language
All performances will be Relaxed. We invite you to make yourself comfortable and move around if you need to and if you need to leave the performance at any point you will be allowed to return to the space when you feel ready.
CREDITS
Authors: Mark Deans, Michael Chan, Bruce Gladwin, Simon Laherty, Sarah Mainwaring, Scott Price, Sonia Teuben
Director: Bruce Gladwin
Performers: Simon Laherty, Sarah Mainwaring, Scott Price
Composition: Luke Howard Trio – Daniel Farrugia, Luke Howard, Jonathon Zion
Sound Design: Lachlan Carrick
Lighting Design: Andrew Livingston, bluebottle
Screen Design: Rhian Hinkley, lowercase
Costume Design: Shio Otani
Production photography: Jeff Busby
AI Voiceover: Belinda McClory
Script Consultant: Melissa Reeves
Translation: Jennifer Ma
Creative Development: Michael Chan, Mark Cuthbertson, Mark Deans, Rhian Hinkley, Bruce Gladwin, Simon Laherty, Pippin Latham, Andrew Livingston, Sarah Mainwaring, Victoria Marshall, Scott Price, Brian Tilley, Sonia Teuben
The Shadow Whose Prey the Hunter Becomes has been co-commissioned by Carriageworks, Theater der Welt, Düsseldorf 2020, the Keir Foundation, the Thyne Reid Foundation and The Anthony Costa Foundation, supported by Creative Partnerships Australia through Plus 1, with development support from the Geelong Arts Centre, Arts Centre Melbourne, Melbourne International Arts Festival, the Une Parkinson Foundation, The Public Theater (New York City) and ArtsEmerson (Boston). 
The Shadow Whose Prey the Hunter Becomes was developed, in part, at the 2019 Sundance Theatre Lab at MASS MoCA. 
Back to Back Theatre is supported by Australia Council for the Arts, State Government of Victoria and the City of Greater Geelong.


WE'RE GOOD TO GO
We have been recognised by the National Tourist Associations of Great Britain and Northern Ireland, that we are operating within the COVID-19 Industry Standard.

FACE MASKS
We encourage all audience members to wear a mask whilst sat in performance spaces and when moving around our building (unless you're exempt).
SOCIALLY DISTANCED PERFORMANCES
We have a limited number of socially distanced performances for most shows, so you can choose when you feel most comfortable attending.

BOOK WITH CONFIDENCE
Our COVID booking policy means that it's easy to exchange your tickets if you are unable to attend.
YOU MIGHT ALSO LIKE...

20 October - 5 November
The Trauma Show
The Trauma Show explores the impacts of adverse childhoods, making a show and dance out of it, mourning our little selves, 'therapise' culture and how TikTok can heal us all.

29 June - 2 July
The Making of Pinocchio
A true tale of love and transition told through the story of Pinocchio. Join two artists on a fantastical journey through a real-life story as they make a new version of Pinocchio.   

6 - 14 October
Jezebel
Jezebel is a dance performance inspired by the 'Video Vixen': female models who appeared in hip hop video clips in the late '90s and early 2000s.