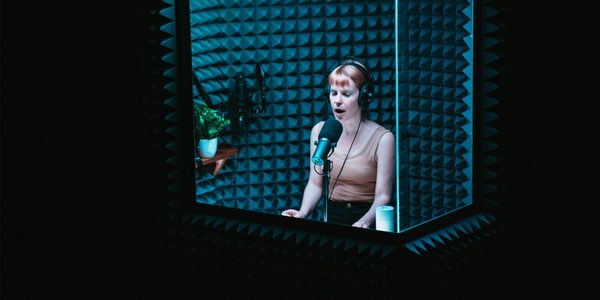 The Talent
Action Hero & Deborah Pearson
Information
Time: 8pm
Tickets: Pay What You Can (Recommended Price £14)*

*all orders will be subject to a transaction fee of £1
Running Time: 60 mins
Age Recommendation: 12+
This event takes place in person in our Council Chamber.
All performances are Pay What You Can!
On stage is a small sound booth; inside it sits a woman, alone. She is a voice-over artist.
Off stage, in a space never seen but only heard, two disembodied voices ask her to conjure different voices for commercials, self-help audiobooks, meditation tapes, computer games, robo-calls …. anything and everything.
Is she the powerful protagonist in her own narrative, literally building her own reality – and ours too – or is her voice being used to construct something more complicated?
The Talent is a show about the voice and human presence in the 21st Century. Where does the voice live? How will her voice live on, outside her body, if it can take on a life of its own?
The Talent asks what kind of ghosts will haunt us when we're gone, and what the legacy of the human voice might be in a non-human future.
"The Talent challenges us to reflect on the sounds and voices we are leaving behind"
Time Out Lisbon

"Hugely entertaining theatre, with a great script and a storming performance"
Audience Member UK Tour

"Brilliant! Thought-provoking, funny, unexpected, terrifically-performed, unique, witty, fabulous sound-design, enlivening"
Audience Member UK Tour

"Paintin's performance is nothing short of incredible"
Brighton Source
PRE EVENT INFORMATION
This event takes place in person in our Council Chamber. This space is on the first floor, with step-free access via a lift.
If you have booked a ticket you will receive an email from us before your performance detailing important information about your visit.
PERSONAL ASSISTANT/COMPANION TICKETS
If you require the assistance of a friend or helper to attend, we can make a free ticket available for your companion. You can book access companion tickets online or contact the Box Office to book by emailing access@bac.org.uk. 
To book a free access companion online:
log in to your account here
go to 'Other preferences' and tick 'I require a personal assistant/companion'.
Choose the performance, date and seats you would like and if you add at least 2 tickets to your basket, then one of these will automatically become free.
PERFORMANCE INFORMATION
Audio Described Performance: 19 May, 8pm. The audio describer will be Dot Alma.
Find out more about audio described performances
Touch Tour: 19 May, 7pm
Book your free ticket here
Content
Flashing lights
Moments of darkness
Loud music
All performances will be Relaxed. We invite you to make yourself comfortable and move around if you need to and if you need to leave the performance at any point you will be allowed to return to the space when you feel ready.
Audio Introductory Notes
AUDIO INTRODUCTORY NOTES (WORD DOC)
AUDIO INTRODUCTORY NOTES (PDF)
CREDITS
Text: Gemma Paintin, Deborah Pearson and James Stenhouse
Direction: Deborah Pearson and James Stenhouse
Performer: Gemma Paintin
Off-stage Voices: Deborah Pearson and James Stenhouse
Sound Design: Yas Clarke
Lighting Design: Alex Fernandes
Operator: Ruth Green
Set Design: Camilla Clarke
Dramaturgy: Tania El Khoury
Producer for Action Hero: Sarah Warden
The Talent is co-commissioned by Teatro do Biarro Alto (PT), South Street Arts and University of Reading (UK) and Cambridge Junction (UK). Developed at PACT Zollverein. Supported by Bristol Old Vic Ferment. With thanks to University of Bristol Drama Department, QMUL School of English and Drama and The Yard. With funding from Arts Council England.
5 WORDS TO DESCRIBE THE TALENT
Virtuosic  |  Fast  |  Lonely  |  Melancholy  |  Emosh
We believe in making our shows accessible to as many people as possible.
We offer tickets on a Pay What You Can basis for the majority of performances throughout the year. Tickets usually start at £8, and we have recommended pricing to help you to choose a price that works for you.
We know that ticket price is a huge barrier for some, and the Pay What You Can model offers people who can afford to pay the recommended price or more the chance to support others who can't.

1 - 24 December
Solstice
Solstice is a brand-new immersive trail through the seasons, with magical creatures and festive fun for all the family.   

2 - 24 Dec
Santa's Grotto
Santa Claus is making a scheduled stop at Battersea Arts Centre this December.

13 December
ORGANOKE Christmas Extravaganza
Hosted at Battersea Arts Centre
Prepare yourselves for the most uproarious and unforgettable alternative Christmas concert you've ever experienced, that will have you singing en masse at the top of your lungs.