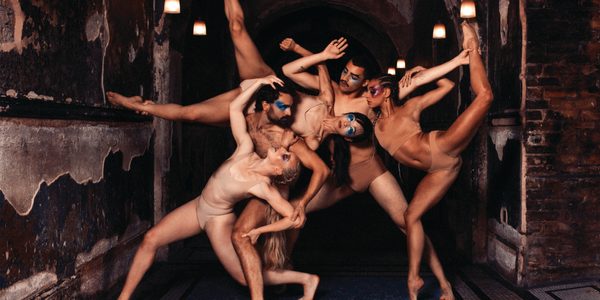 Information
Times: 5:00pm or 7:30pm (Doors open 30 mins beforehand for audiences to enjoy Food & Drink and to soak up the atmosphere)
Tickets: Pay What You Can (suggested price £26)
Running Time: 2 hours 15 mins (plus after party)
Age Guidance: 12+
This event takes place in person across our building. Two thirds of the performance spaces have step free access. A third of the performance does not have step-free access.
Come together in an explosive celebration of a new world.
Immerse yourself and party with friends in an electric club atmosphere with We Are As Gods, James Cousins Company's first large scale immersive experience drawing together James Cousins' 'strikingly original' (The Guardian) choreography with music and sound design by Torben Lars Sylvest (Far From the Norm, Scottish Dance Theatre) and Pär Carlsson (Film4).
Featuring recorded text written by British-Egyptian poet Sabrina Mahfouz; discover a maze of rooms, rooftops and secret stairways throughout our building filled with the UK's most exciting dance talent. Choose your own path as tender duets and powerful group performances writhe to the heartbeat of London's nightlife, culminating in a euphoric after-party hosted by acclaimed DJ and Rapper GAIKA in our Grand Hall.
Supported by Arts Council England, National Lottery Community Foundation, The Ragdoll Foundation, the Fidelio Trust, Cockayne – Grants for the Arts and the London Community Foundation, and generously by private supporters.  
Part of our OverCome Season
#OverCome2021
Choose Dates & Book
The default price is our suggested price per ticket. Any amount paid over this will help us continue to make our events accessible to everyone.
No events could be found. Please try again
CAST & CREATIVE TEAM
Choreography James Cousins  
Music and Sound Design Torben Lars Sylvest & Pär Carlsson 
Writer Sabrina Mahfouz 
DJ GAIKA
Lighting Design Lee Curran
Set and Costume Design Jasmine Swan
Associate Choreographer Gareth Mole
Dramaturg Hannes Langolf
Creative Associate Alethia Antonia
Assistant Choreographer George Frampton
Outreach Facilitator Richard Pye
Featuring the final year BA students of London Contemporary Dance School, The Place.
The Elders Company from Katherine Low Settlement.
PAY WHAT YOU CAN
As part of our wider commitment to making the arts accessible to everyone, all performances at Battersea Arts Centre will now be part of our universal Pay What You Can pricing model.
Use the slider or list of prices to decide how much you want to pay for your ticket. To give you a guide, we've included a recommended price for each event. Any amount paid over this will help us continue to make our events accessible to everyone, whilst supporting our activities with artists, young people and our local community.
Head to our blog to find out more about Pay What You Can.
COVID-SECURE MEASURES
We are a COVID secure venue and are following guidelines set out by the government to make your visit a safe and enjoyable one.
Mask wearing is required for all adult audience members whilst sat in performance spaces and when moving around our building (unless exempt).
Find out more about our covid-secure measures
We are offering a limited amount of socially distanced performances for most events.
Fewer tickets will be sold for these performances providing more space for audiences to be social distanced.
Socially distanced performances will be highlighted next to the dates when booking.
ACCESS
This event takes place in person. The audience will be moving around the whole of Battersea Arts Centre during the performance. Two thirds of the performance spaces have step free access. A third of the performance does not have step-free access.
If you've booked a ticket, you'll receive an email in advance with helpful information before the performance.
Content
This show includes f

lashing lights.

There will be loud music and sounds.
May contain scenes some audiences may find disturbing.
All performances will be Relaxed. We invite you to make yourself comfortable and move around if you need to and if you need to leave the performance at any point you will be allowed to return to the space when you feel ready.
Further Information
YOU MIGHT ALSO LIKE...

29 June - 2 July
The Making of Pinocchio
A true tale of love and transition told through the story of Pinocchio. Join two artists on a fantastical journey through a real-life story as they make a new version of Pinocchio.   

29 June
Christopher Bliss: Work in Progress
Christopher Bliss is a village-renowned novelist and son of two. WARNING: This show contains scenes that some viewers may find extremely nice.

30 June
Sami Abu Wardeh: Bedu
Work in Progress
Sami Abu Wardeh uses his body and voice to present an hour of character comedy that may feel dangerous but is probably as safe as milk or houses.