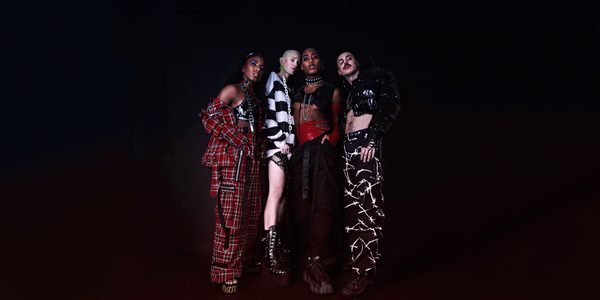 Information
Time: 7.30pm
Tickets: Pay What You Can (Recommended Price £16)
Running Time: 45 mins
Age Guidance: 13+
This event takes place in person in our Council Chamber.
A dark fantasy, conceptual choreography exploring the question: "Was Tupac depressed?"
Using dance, text and striking visuals, marikiscrycrycry's He's Dead delves into the unspoken surrounding mental health in the Black community.
Underscored by a brooding hip-hop soundscape, He's Dead is a complex and powerful endeavour to "shed tears for the things that we cannot unearth" in an attempt to find clarity in what can never truly be answered.
Made in three acts, this compelling work looks at the violence of dehumanisation – highlighting the injustice that if a figure is flawed in any way by their actions, their sadness cannot be heard or acknowledged; heightened endlessly if you are Black.
He's Dead is a struggle for, and expression of, what it means to be human – yet to be fighting for your humanity constantly.
Commissioned by The Marlborough Pub & Theatre for New Queers on the Block, Attenborough Centre for Creative Arts, Theatre in the Mill, Block Universe, and The Yard. Further support from Arts Council England, The Place and Institute of Contemporary Arts.
Please note that this performance contains strong language.
This performance is Pay What You Can.
The Pay What You Can Scheme removes a financial barrier, giving everyone the chance to see our shows. This is made possible by those who are able choosing a higher price point, and for this you can be guided by the recommended price.
Thank you for supporting us and the community by continuing to book with us. We look forward to seeing you soon.
Choose Dates & Book
The default price is our suggested price per ticket. Any amount paid over this will help us continue to make our events accessible to everyone.
No events could be found. Please try again
CREDITS
Concept, choreography and direction: Marikiscrycrycry
Dancers: Alexander Love, Blue Makwana, Eve Stainton and Marikiscrycrycry
Producers: The Uncultured
Sound designers: JONI, Joanna Pope, ¥ummy Online
Sound research: Dylan Spencer-Davidson, TAAHLIAH
Flag designs: Zeinab Saleh
Lighting and Technical Design: Jon Cleveland
Dramaturgy: Martin Hargreaves
Production Managers: Livvy Lynch, Chris Mackie
Understudies: Kira McPherson, Jack William Parry
ACCESS
PRE EVENT INFORMATION
This event takes place in person in our Council Chamber. This space is on the first floor, with step-free access available via a lift.
If you have booked a ticket you will receive an email from us before your performance detailing important information about your visit. If you would like to read about our current COVID safety measures in place, you can find out more about what to expect here.
PERSONAL ASSISTANT/COMPANION TICKETS
If you require the assistance of a friend or helper to attend, we can make a free ticket available for your companion. You can book access companion tickets online or contact the Box Office to book by emailing access@bac.org.uk. 
To book a free access companion online:
log in to your account here
go to 'Other preferences' and tick 'I require a personal assistant/companion'.
Choose the performance, date and seats you would like and if you add at least 2 tickets to your basket, then one of these will automatically become free.
PERFORMANCE INFORMATION
Sensory adapted performance: 31 Mar, 7.30pm
Find out more about our sensory adapted performances.

Captioned performance: 1 Apr, 7.30pm
Find out more about our captioned performances.
Socially distanced performance: 23 Mar, 7.30pm
Content
Pulsing lights 

Haze
Loud music

Strong language

References to suicidal thoughts

Use of replica guns, fighting and other explicit uses of violence
All performances will be Relaxed. We invite you to make yourself comfortable and move around if you need to and if you need to leave the performance at any point you will be allowed to return to the space when you feel ready.

WE'RE GOOD TO GO
We have been recognised by the National Tourist Associations of Great Britain and Northern Ireland, that we are operating within the COVID-19 Industry Standard.

FACE MASKS
We encourage all audience members to wear a mask whilst sat in performance spaces and when moving around our building (unless you're exempt).
SOCIALLY DISTANCED PERFORMANCES
We have a limited number of socially distanced performances for most shows, so you can choose when you feel most comfortable attending.

BOOK WITH CONFIDENCE
Our COVID booking policy means that it's easy to exchange your tickets if you are unable to attend.
YOU MIGHT ALSO LIKE...

19 & 26 May
James Acaster: Hecklers Welcome
James Acaster has decided to give up control and let the audience do what they want while he tries to tell stories. It's an experiment!

27 May
Ed MacArthur: The Launch
Work in Progress
The award-winning Ed MacArthur brings The Launch to BAC; a madcap, multi-instrumental rollercoaster of razor-sharp wit, original songs and stunning musicianship.