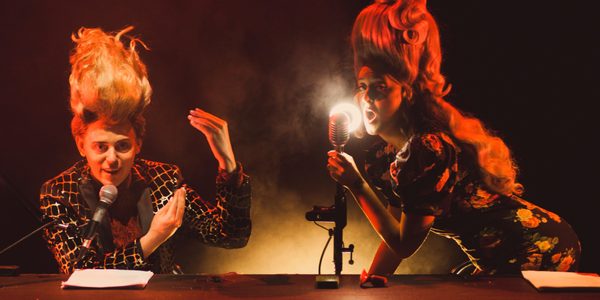 Information
Time: 8pm
Tickets: Pay What You Can (Recommended Price £18)
Running Time: 75 mins
Age Guidance: 18+
This event takes place in person in our Members Bar.
'I think of a child's mind as a blank book'  Walt Disney
Racing across the savage inner-landscape of the human mind, two unlikely (anti)heroes pursue a nightmare vision of freedom through spiraling episodes of intense sensuality and phantasmagoric violence.
Created and performed by UK/Spanish experimental theatre group Sleepwalk Collective and writer, performer and musician Christopher Brett Bailey – Psychodrama is a gooey, drippy dream of a show, a pop-cultural exorcism, a runaway train riding a burnt synapse through the centre of your skull.
A celebration of the corrosive power of storytelling that asks who are all those voices inside your head? and how did they get there? and if you could silence those voices… would you?
'Few theatre-makers capture the vertiginous thrill and terror of contemporary existence as captivatingly as Sleepwalk Collective'
The Guardian (on Sleepwalk Collective's Kourtney Kardashian)
'What a f**king genius'
Smiths Magazine (on Christopher Brett Bailey's This is How We Die)
Commissioned by Centro de Cultura Contemporánea Condeduque, Theatre in the Mill, Cambridge Junction, and Battersea Arts Centre. Supported using public funding by the National Lottery through Arts Council England.
This performance is Pay What You Can.
The Pay What You Can Scheme removes a financial barrier, giving everyone the chance to see our shows. This is made possible by those who are able choosing a higher price point, and for this you can be guided by the recommended price. Thank you for supporting us and the community by continuing to book with us. We look forward to seeing you soon.
Choose Dates & Book
The default price is our suggested price per ticket. Any amount paid over this will help us continue to make our events accessible to everyone.
No events could be found. Please try again
CREDITS
Written & Created by Sleepwalk Collective & Christopher Brett Bailey 
Performed by iara Solano Arana & Christopher Brett Bailey with the voice of Nhung Dang 
Music & Sound Design: Christopher Brett Bailey & Sammy Metcalfe 
Stage Design: iara Solano Arana 
Lights: Sammy Metcalfe 
Wigs: Katie Du'Mont 
Costumes: Paola de Diego 
Produced: Beckie Darlington 
ACCESS
PRE EVENT INFORMATION
This event takes place in person in our Members Bar. This space is on the first floor, with step-free access available via a lift.
If you have booked a ticket you will receive an email from us before your performance detailing important information about your visit. If you would like to read about our current COVID safety measures in place, you can find out more about what to expect here.
PERSONAL ASSISTANT/COMPANION TICKETS
If you require the assistance of a friend or helper to attend, we can make a free ticket available for your companion. You can book access companion tickets online or contact the Box Office to book by emailing access@bac.org.uk. 
To book a free access companion online:
log in to your account here
go to 'Other preferences' and tick 'I require a personal assistant/companion'.
Choose the performance, date and seats you would like and if you add at least 2 tickets to your basket, then one of these will automatically become free.
PERFORMANCE INFORMATION
Captioned performance: 8 Apr, 7.30pm
Find out more about our captioned performances.
Socially distanced performance: 29 Mar, 7.30pm
Content
Haze

 

Moments of complete darkness

 

Loud or sudden music/sounds

The show will encourage you to imagine a lot of sex and violence. The way the sex and violence is described as very over the top and it doesn't sound real. There is one short moment of comically simulated sex.
All performances will be Relaxed. We invite you to make yourself comfortable and move around if you need to and if you need to leave the performance at any point you will be allowed to return to the space when you feel ready.
AUDIO INTRODUCTION: Psychodrama

WE'RE GOOD TO GO
We have been recognised by the National Tourist Associations of Great Britain and Northern Ireland, that we are operating within the COVID-19 Industry Standard.

FACE MASKS
We encourage all audience members to wear a mask whilst sat in performance spaces and when moving around our building (unless you're exempt).
SOCIALLY DISTANCED PERFORMANCES
We have a limited number of socially distanced performances for most shows, so you can choose when you feel most comfortable attending.

BOOK WITH CONFIDENCE
Our COVID booking policy means that it's easy to exchange your tickets if you are unable to attend.
YOU MIGHT ALSO LIKE...

19 & 26 May
James Acaster: Hecklers Welcome
James Acaster has decided to give up control and let the audience do what they want while he tries to tell stories. It's an experiment!

27 May
Ed MacArthur: The Launch
Work in Progress
The award-winning Ed MacArthur brings The Launch to BAC; a madcap, multi-instrumental rollercoaster of razor-sharp wit, original songs and stunning musicianship.