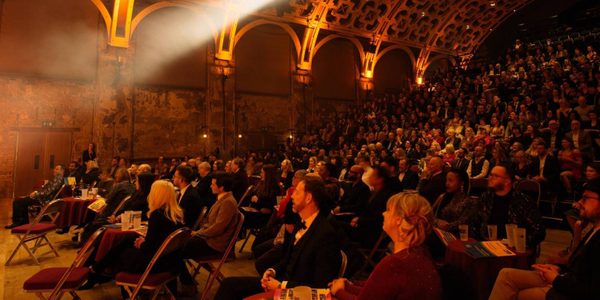 Our historic, beautifully restored Grand Hall is available for sit-down dinners and large award ceremonies. After the fire of 2015, our beautiful Grand Hall has been restored to more than its former glory, boasting an increased capacity, an advanced technical infrastructure and a resplendent setting.
With a seated capacity of 350, we welcome new events and reimagine existing ones with flair and creativity.
At our heart, we are an arts venue and we see all events as productions in their own right.
Food naturally takes a starring role in banqueting events and we take pride in the professionalism of our catering arm. Our in-house team are well rehearsed at running a smooth service operation, ensuring your guests are treated to fantastic service, while surrounded by the atmosphere and drama of Battersea's old town hall.
We also work with a small but select number of external caterers who know our venue and always love the opportunity to bring something new to the table.
Recent events include the British Council, the Education Achievement Awards for Children in Care, the Off West End Awards (Offies) and the Youth Music UK Awards.
Grand Hall – up to 350 seated and 800 for a standing reception
Council Chamber – up to 132 seated and 200 for a standing reception
Council Chamber and Members Library – up to 180 seated and 260 for a standing reception
REVIEWS
'I just wanted to say a massive thank you for all your help and support for allowing us to deliver what has been described as "one of the best Christmas parties we have had in years". You all have been extremely supportive and always willing to help in so many aspects before and on the day Christmas party.' – Hugo Boss UK Christmas Party, December 2019
'A massive heartfelt THANK YOU for last night! BAC exceeded my expectations; I've had nothing but positive feedback regarding the venue.  Everyone has said they think last night was the best Christmas party we have ever hosted.' – Corporate Christmas Party, December 2019
Nothing beats seeing a venue first-hand, so please get in touch with us today to arrange a viewing with a member of our events team.